The idea behind Stringfly is that if something newsworthy happens, chances are somebody watching has a smartphone. But are they going to succeed by commoditizing citizen journalism, or by rewarding users who fill out surveys and plug products on social media?
Developer Engagement Media Technologies rolled previous citizen journalism, brand engagement and information gathering projects into Stringfly, which is powered by a mobile app. The promise is that users can get paid for completing assignments in any of the three categories.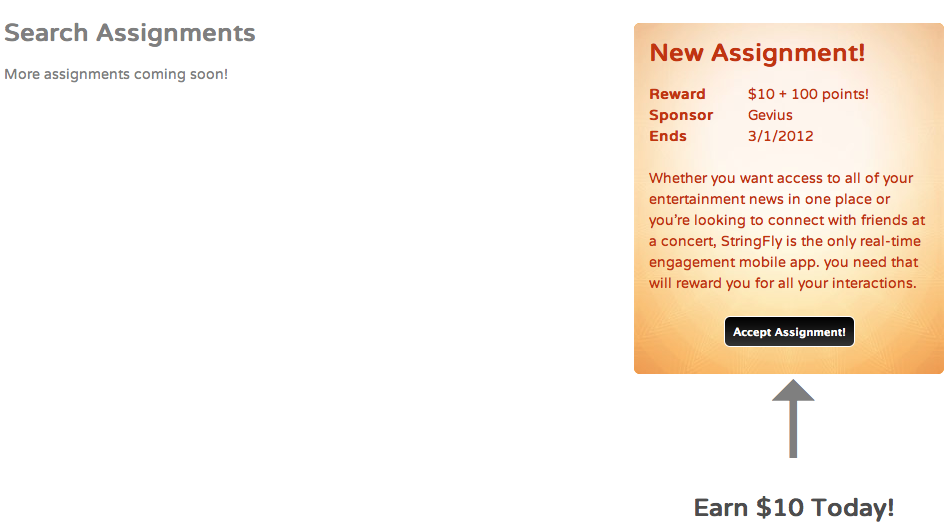 Seth Elliot chief strategy officer for the company, plays up Stringfly's reporting aspects, which draw on EMT's longer-standing OneNews. He hopes to draw on the energy of motivated stringers who want to complete short projects in exchange for cash or coupons.
"Fantastic, newsworthy content captured by regular people often is never viewed by others, unless it ends up in the right hands. Most user generated content is created by people with regular jobs, errands, families, etc.–they don't have time to access the right news organizations and present it to the world along with additional research and talking points–but they still want to share it with the world."
Elliot believes there's potential to change the way the media approaches big stories, like the social media-influenced Arab Spring and Occupy Wall Street movements, as well as hyperlocalized content (OneNews has a charmingly succinct list of tips for ethical citizen journalists.)
"By using the Stringfly mobile application, users–citizen reporters–are able to upload newsworthy content–and even respond to specific assignments, while news organizations across the globe are able to access this content,. This 'widens the pipe' of available news content and enables news organizations to obtain content on breaking stories previously unavailable–not only for 'big' stories but also for more focused, local and regional events."
Stringfly's site, though, plays up the decidedly less-glamorous content channel of brand interaction. At its worst, Stringfly sounds like it could be one more annoying spam funnel that clogs up social media feeds.
"Each time you interact with a specific brand via StringFly, you will collect reward points," reads an informational page. "You can interact with the brand via status updates that mention them, taking photos or quick videos of yourself with their product and/or through taking part in any of their online games such as scavenger hunts, photo contests, etc."
To win supporters, Stringfly would need to build up a userbase and available assignments (at press time, only one job was listed on the site). It would also need to iron out the kinks associated with Gigwalk, a similar project that met with a mixed reception.