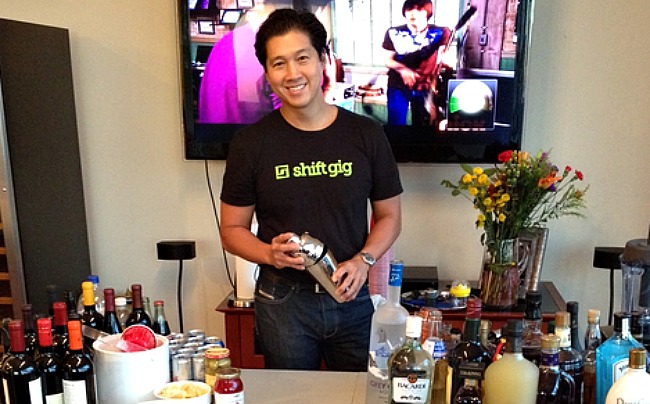 Chicago-based Shiftgig is gearing up for the biggest party night of the year by connecting bartenders and servers with New Year's Eve gigs. While Shiftgig's main focus is growing a professional networking and employment community for the hospitality and retail industries for full-time and part-time opportunities, the bullpen feature helps workers in these industries pick up extra shifts for short-term or one time gigs.
According to Shiftgig President and co-founder Jeff Pieta, the holidays are a busy time for Shiftgig. "Employers may be looking for some extra help for the holiday rush and candidates may be looking to make some extra money. Shiftgig is happy to be the platform that allows employers and candidates to connect 24/7/365," said Pieta.
Hiring a worker via Shiftgig for a one time gig is a new feature that the company is testing. To help event professionals find and hire a bartender or server for New Year's Eve, Shiftgig has created a Bullpen Concierge. "A user would simply email [email protected] with the details and needs for your party and a Shiftgig Bullpen Concierge will coordinate a solution. We are evaluating use cases such as this to build into our site to create a self-service tool for all party staffing needs," said Pieta.
For workers who are looking to pick up a last minute shift or a seasonal gig, they can search through over 1,300 active job posting in major cities such as Chicago, New York, Los Angeles, Washington D.C., Miami, Minneapolis. "When a candidate creates a Shiftgig profile they can specify a preferred job type, such as seasonal, the candidate will then receive email alerts when new jobs that match are posted. Also, employers can reach out to candidates that match preferences," said Pieta.
To be accepted into the Bullpen, workers send an email to [email protected] with a link to their Shiftgig profile. If the Shiftgig teams finds that you are qualified, a company team member will contact the worker to schedule a video or in-person interview. To get paid for a gig, workers are either paid either directly by the client or through bullpen's payment service, according to the company's blog.
Shiftgig just closed a $3 million Series A round in November, with Firestarter Fund, Red Barn Investments, and I2A Fund participating in the round. The company is headquartered at the Catapult coworking space in Chicago.
Image courtesy of Shiftgig.