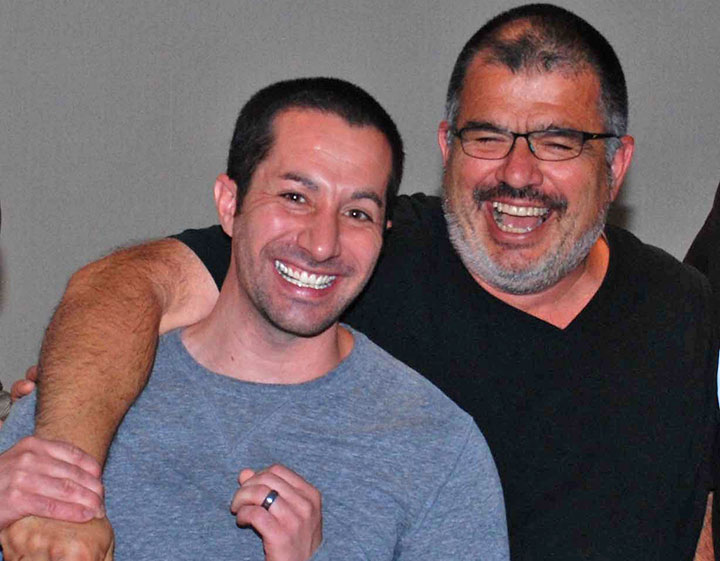 Apropos of Father's Day weekend, the St. Louis Regional Chamber hosted a "[email protected]" event celebrating two remarkable entrepreneurs from the same family tree -father and son, Bob and Gabe Lozano. The Lozanos were engaging as they spoke about the necessary commitment and the inevitable hardships of entrepreneurship with frankness and laughter.
After joking about being fired from his first internship, and then his first job after college, co-founder of LockerDome Gabe Lozano said entrepreneurs are not hirable candidates because of their need for freedom.
"Choosing to be an entrepreneur, you do it with your eyes a little more open," said Gabe.
He equated building a startup to being repeatedly run over a truck while the driver takes extra strides to beat you down and mug your wallet.
"And you like it," said his pop, Bob. "There are just things you deal with."
A father of eight whose relentless dedication to his startup dreams meant occasional financial hardships for his family, Bob's fingerprints have been on numerous notable startups, including Appistry and Paylinx, and recently founded HappyFeat LLC in 2010.  He's also in a stealth launch of a new venture now.
"It's the painful things that are more helpful, more informative," Bob said about running a startup. "Sometimes you have to create new markets. Sometimes you have to create new services," he said.
Despite such uncertainty and challenges, working for a corporation is not necessarily easier, and Bob found the corporate environment to be unfulfilling.
After inheriting his entrepreneurial passion from his father, Gabe also experienced moments of worry and doubt. Two weeks before his wedding, and while living with his parents, he was profiled as not fit to head a venture-backed startup, a low point. However, days later, he found himself skipping his pre-wedding festivities  – the night before his nuptials – in order to sign the paperwork with his first financial backer.
"Being delusional matched with confidence I think is really important," he said. Thanks to Techli's founder, Edward Domain, for moderating this father/son exchange.  And Happy Father's Day to all those inspiring the next generation of innovators!
See the highlights from the Lozano's conversation, courtesy of the St. Louis Regional Chamber:
Connect at Lunch with Bob and Gabe Lozano from STLChamber on Vimeo.