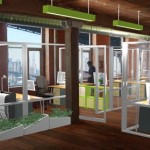 As freelancers, we love the freedom of setting our own schedules and choosing our own customers. For me, being a freelancer means that there are days where I'm working 15 hours straight and eating every meal in front of my computer. But it also means that I can take a break three times a week and go for a run (I call this "putting the 'free' in freelance"). But even for the most hardcore freelancer, working from home all of the time has its disadvantages. I try to make a point to have at least 2 or 3 client meetings per week, attend a networking meeting or two, or reconnect with peers to exchange ideas. I find that it keeps my ideas fresh and my networking skills sharp. It also presents great business development opportunities.
Here is where I love coworking spaces. If you're not familiar, a coworking space is where independents and freelancers can rent a desk, office, or meeting room to take a break from home or the corner coffee shop. Some of the other advantages of coworking spaces include:
Professional atmosphere for client meetings.
Diverse types of workers can offer resources, connections, or even clients.
Some have a professional, dedicated voicemail box you can give to clients.
Internet and fax access.
Quieter than a coffee shop.
I can't stress the second point enough. Coworking spaces with a wide array of workers from architects to real estate agents to web developers make for a great atmosphere. Working side-by-side with these folks not only can give you a fresh perspective on how to conduct your own business, but also gives you a familiar face to refer people in need of a certain skill. You may be an awesome Jooma! coder, but the thought of doing your taxes sounds like a pain in the CMS. If your coworking space includes a CPA, you may be able to exchange their talents for yours. Also, that same CPA may work with a company who's desperate to have their website overhauled, and would love an easy CMS to do updates themselves. Guess what? Now their CPA has someone they can recommend. Not exactly the kind of connection you could have made working from home with your dog, right?
What are your thoughts on coworking and what good or bad experiences have you had in your area with coworking spaces?