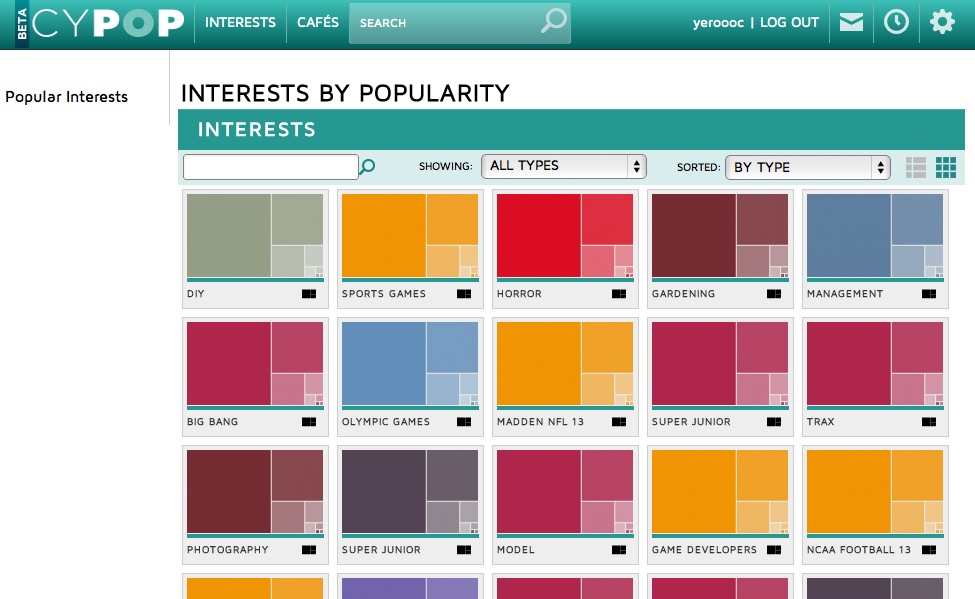 CyPOP, a new online community startup based out of Seattle, Washington, has made its debut in public beta this week. Unlike Facebook, CyPOP is focusing on connecting individuals online through common interests, instead of the daisy chain of friends and acquaintances that make up most social networking sites today.
Perhaps the most innovative feature of the new website is its online cafés in which users can come together to discuss common interests including music, books, video games, fashion, and much more. Each user can create a folio, which they can make private or share with fellow users, gathering all the things they love across the web into one central place. This folio creates a visual interest map, in which users can navigate to recommended cafés and meet other users whose interests align with their own.
Items imported into a user's CyPOP folio can be done with the service's browser bookmarklet, allowing users to grab anything from around the web. One pain about the importing process is that items added to your folio aren't tagged contextually, but must instead be specifically placed into a folio to which you've assign a specific label. Users can have a variety of folios that express to other users what kinds of things they're most interested in, or simply use them as a personal collection to organize their favorite things.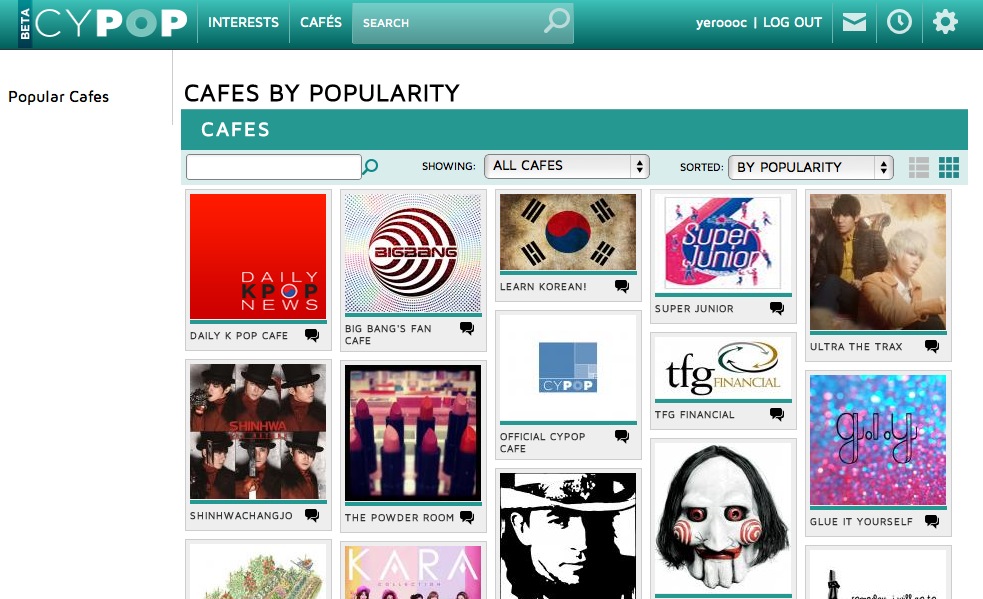 Founders Josie Baik and Glenn Walker took a great deal of inspiration from one of South Korea's most popular forms of social networking, known as cafés, where users come together in an online community around a common interest. As a Korean-American, Baik believed that the concept could bring something new to the table in the US' currently-dominated social networking space.
"Baik recognized a void in much of our social communities in the US as compared to what she was seeing in Korea," said CyPOP co-founder and CEO Glenn Walker. "In South Korea, digital communities go beyond simply who you know and venture deeper into connecting with others through specific interests — and we thought we could make that happen in the US and beyond by localizing and expanding on the café concept."
During its month-long closed beta, CyPOP had more than 300,000 users engaging with the platform. The service currently has a variety of user-created cafés, covering topics including Angry Birds tips and tricks, yoga, and AMC's hit show Breaking Bad. The Seattle startup is hoping to capture the interest of businesses by offering the opportunity to create branded cafés for customers to discuss their favorite products.
Anyone looking for a different kind of online community experience should give CyPOP a spin. You might finally find that elusive group of people who still love Swamp Thing as much as you do.