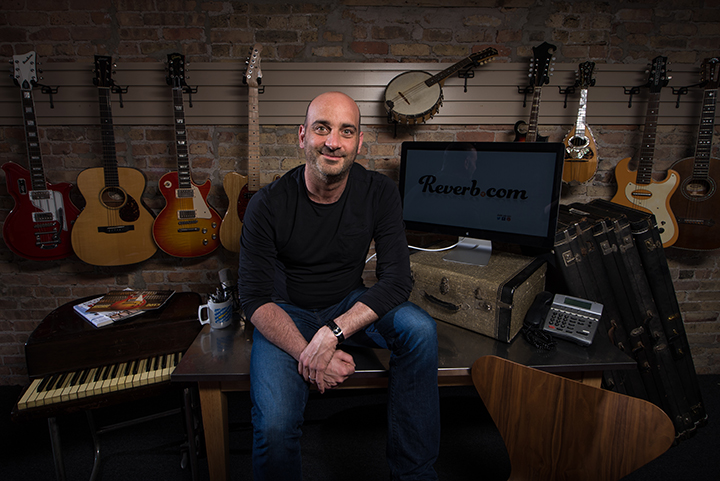 Reverb.com, an online exchange for new and vintage musical instruments and gear, announced a Series A investment from well-known Chicago venture firm Lightbank. This included the support from high-profile startup veterans Eric Lefkofsky, CEO of Groupon, and Brad Keywell, Lightbank founder.
The $2.3 million Series A funding will allow for expansion of the fast growing company, including hiring of new technology employees.
Since its founding in late 2012, the site has drawn 4,000 dealers armed with "powerful tools to maximize exposure," the company reported, so that dealers and customers can find the right prices for their instruments. The vintage, handmade, new and used instrument marketplace is a $7 billion industry that Kalt is tapping into.
"We estimate there's another $70 billion of merchandise that's not in the market," Kalt told Techli. "Guitars and gear that sit in attics and basements, largely forgotten and gathering dust. We're trying to get all of those instruments into the hands of people who will use them."
The company is growing 40 percent month over month, with 10,000 active customers and 50,000 registered users.
Kalt also founded optionsXpress which sold to Charles Schwab for more than $1 billion, and ClientBASE, the first CRM for the travel industry. He has also been the owner of the Chicago Music Exchange for about three years. This well known Chicago Music store sees visits from celebrities such as Tom Petty, Brad Paisley and Johnny Depp.
Kalt has more than doubled revenues of the 17-year-old store since he took it over. And now, he's able to sell through traditional brick and mortar, as well as through new online media. The Chicago Music Exchange sold $500,000 worth of guitars on eBay during Reverb's inaugural year, and the inefficiencies of the platform are what inspired Kalt to build the newer, more efficient musical marketplace.
He said in an earlier interview with Techli that this helps them "connect the dots between store experience" and online selling, using video, photos and descriptions to better create an emotional, customer experience. This gives customers the information they need to make the sale. As the Internet grows infiltrated with sales and sites, this customization and personalization becomes increasingly important.
Niche marketplaces are rising throughout the e-commerce space. There's well-known Etsy for jewelry all the way to up-and-coming Chicago-based Mystery Tackle Box for fishing gear. And larger marketplaces are purchasing new ones to keep up with innovation in the space. Recently, eBay's PayPal subsidiary bought Chicago-based Braintree, as the next wave of e-commerce demands better customer support and marketing of products.
Brad Keywell, managing director and founder at Lightbank, told Techli that the firm is attracted to the "focused marketplace approach to the musical instrument space, the size of the space, and the adjacent opportunities." But he also said the firm acknowledges Kalt's proven success as an entrepreneur.
Lightbank invests in early stage companies and has invested in more than 50 companies raising more than $1.5 billion total. The Reverb funding also includes investment from startup pioneer Eric Ries, Rick Nielsen of Cheap Trick, David Lowery of Cracker, and Camper van Beethoven along with Lefkofsky and Keywell.
"I go way back with Brad and Eric, and we've been fans of each other's businesses for years and years," Kalt said. "They understand marketplaces, so it made sense for them to be part of the investor group for this round."
And the firm returned the praise. "David is a passionate, dedicated, resourceful, and experienced entrepreneur – he knows how to assemble a great team and build world-class technology," Keywell said.
"We have a huge amount of confidence in David and are thrilled to back him in this endeavor."