Any startups looking to get in on this year's Chicago Digital Startup Initiative have until Monday to submit their applications for a chance at a $15,000 grant. The Chicago Interactive Marketing Association (CIMA) is continuing the initiative into its second year, offering the grant to growing startups in Chicago's entrepreneurial community.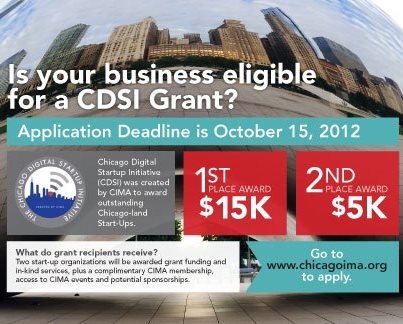 Last year CIMA awarded grants to OkCoPay and Agency Analyst, which is now headquartered out of 1871, Chicago's newest co-working space. OkCoPay, a price comparison engine for healthcare services, received the larger of the two grants, and went on to win the Echoing Green Fellowship for Social Entrepreneurs as well as a nomination for a grant from Young Leaders in Healthcare.
"We couldn't have been more pleased with the success of last year's winners and look forward to continuing our support of the Chicagoland startup community," said CIMA president Cary Goss.
The Chicago marketing association has built a forum of professionals to help digital businesses grow together. In addition to the 15 and 5k grants, the association will provide this year's winners with in-kind services including free membership, access to events, and sponsorships.
The winner of the 2012 CDSI grant will be announced during the CIMA annual awards ceremony on the evening of October 29th. During the ceremony, CIMA will additionally give out its annual Star Awards for the city's rising star, digital person of the year, and best interactive work of 2012.
Eligible companies must be located within the Chicagoland area and have an annual revenue below $1 million in order to enter. Stop by the CIMA website to begin filling out an application for your company before the October 15th deadline. Last year more than 30 Chicago startups submitted applications for the inaugural grant competition, so be sure to use the optional 2-minute pitch video to help your company stand out from the crowd.