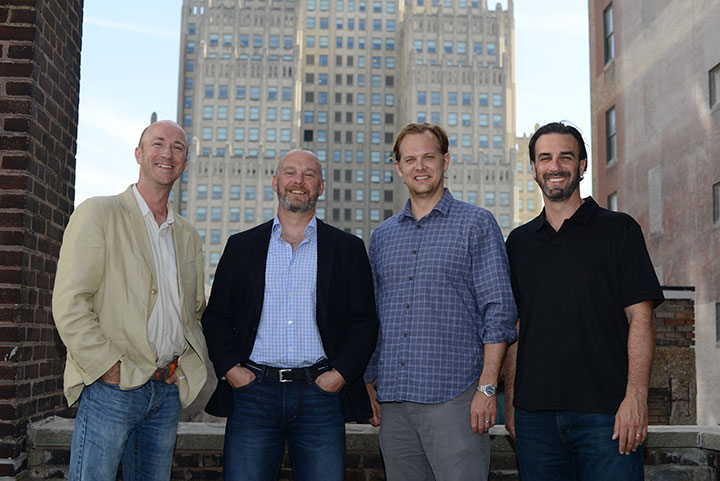 When most people hear the phrase "mergers and acquisitions," they typically envision a boardroom of "suits" and the big corporate world of Wall Street. However, the tech world, including Steve Jobs' signature mock turtleneck and Mark Zuckerberg's ever-present hoodie, have changed at least some of that image.
Elasticity, the St. Louis-based marketing startup, isn't concerned with what your idea of the "typical" startup entails. Recently named one of the fastest growing companies in St. Louis, Elasticity continues to impress with its groundbreaking news—it just announced its acquisition of Digital Mothership, a software engineering and digital development firm that creates cutting edge mobile apps and web platforms.
"A little more than five years ago we were a dream," said Elasticity co-founder Aaron Perlut. "But we've played our vision out and continue to grow."
Founded in January 2009, Elasticity has grown organically from three to twenty-five people. The firm, which markets reputations, has worked with a multitude of St. Louis-based startups and companies, including LockerDome, Cortex, Arch Grants, and aisle411. Square's Jim McKelvey has enlisted them for his financial tech services company SixThirty. The acquiring of Digital Mothership, led by Derek Stagner, who has spent twenty years in the marketing world with a clientele ranging from the NBA to the U.S. Army, instantly helps Elasticity gain more experience and new ways to expand. Digital Mothership will operate as a subsidiary company.
"This is a tremendous amount of deeper expertise on the digital development side, and that allows us to have new opportunities to take the content that we already create for our clients and distribute it in new ways," said Perlut.
The staff of Digital Mothership is already in the process of moving to Elasticity's location on Locust Street. It will bring Elasticity's total staff to 30. Along with rich experience and senior management, Digital Mothership also brings built-in business. Notable clients include Amway and CareerBuilder. The company seems to mesh perfectly with what Elasticity needs to more effectively distribute content.
"Our expertise builds upon Elasticity's offerings very nicely," said Stagner. "Elasticity is known for innovative ideas and cross-channel marketing that breaks through the clutter. With Digital Mothership, we'll now be better positioned to bring those visions to life across digital mediums through user-centric experiences that enable our clients to stand out from their competitors."