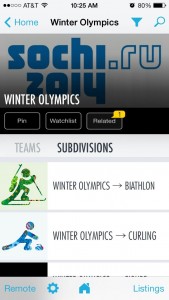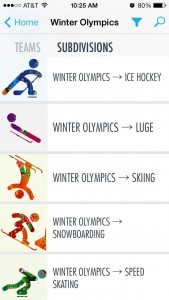 For the tech savvy sports fans out there, Seattle-based BuddyTV has introduced a new "Olympics Vibe" for the 2014 Sochi Olympics.  In other words, you can always know where and when to watch your favorite winter Olympic events with this convenient app for your phone or tablet.
Essentially, it's a free mobile channel guide and social TV app that can be customized to your specifications.  Finding your favorite sports on television is as simple as tapping through the app.  For example, if you're a fan of curling, simply tap on "Curling" within their Olympic Vibe and you can see when the event is taking place and what channel it's on in your area.  (Right now, there are eight scheduled airings for Curling.)
If your satellite or cable provider is like mine, you know how difficult it can be to find all the events.  That's because this year's Olympics are airing on five different channels, and none of them are close to each other on the TV guide.
Don't worry.  There's a better way. See the app in action below and download it for yourself here. It's available for iPhone, Android and Windows Phones.

Not big on watching the Olympics? That's ok.  You can use the BuddyTV Guide app to find other things to watch on television.  It even works with Netflix and other streaming services.  They've had over 400,000 downloads on iOS and the app also has some pretty interesting and useful features.
Check it out for yourself.  You can read news about your favorite shows and actors as well as interact with other fans.  There's even games you can play, but I recommend you use it as an efficient way to take a break from your entrepreneurial activities.  After all, we all need a break here and there.  Do it efficiently with this app, so you can relax and then get back to work.