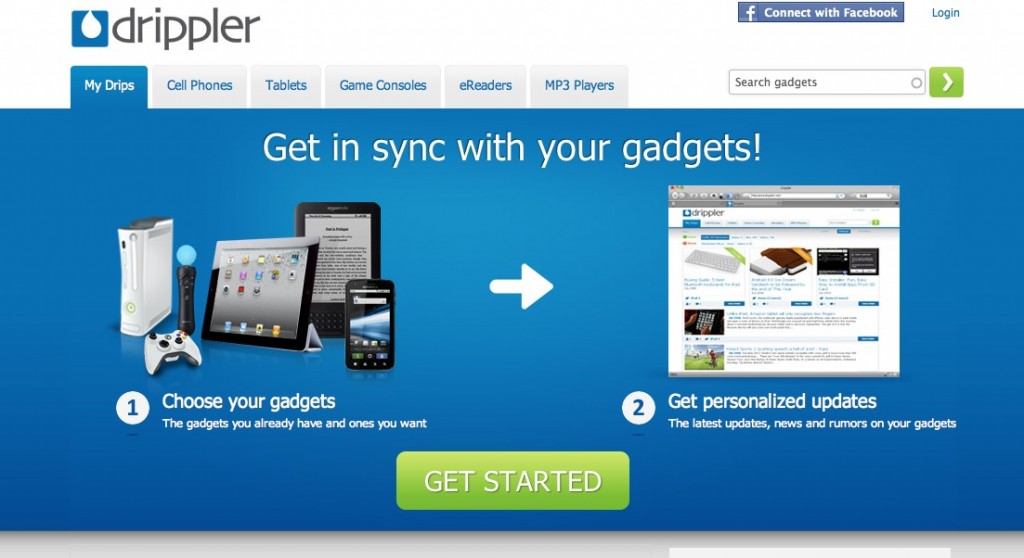 THE GIST: Unlike most other gadget websites, Drippler allows you to customize your feed based on the gadgets you own and are most interested in, even down to the particular model. Whether on your computer or using their smartphone app, Drippler gathers content from all different areas of tech, including news and announcements, software updates, reviews, and more. The service also offers the option of browsing by type of gadget, so if you're interested in all tablets or game consoles you can pull up a feed specifically for them. The startup even offers a customized weekly newsletter that can be sent to your provided email address, tailored to your gadget interests. Drippler was created to save you the pain of digging around the web to find the gadget stories you want, offering a solid, customizable reading experience for every kind of tech enthusiast.
[youtube id="X0vEKEYW4TQ" width="600″ height="350″]
BACKGROUND: Based out of Tel-Aviv, Israel, Drippler launched in its alpha stage in 2010, and into beta in August of 2011. Its founders include Matan Talmi (CEO), Dotan Galron (CPO), and Ronen Yacobi (CTO).
FUNDING: Drippler has been funded by many high profile entrepreneurs, including Reuven Agassi, founder of SAP Business One, Yanki Margalit, who founded Aladdin Knowledge Systems, and David Assia, founder of Magic Software Enterprises. The company received $250,000 in Angel funding in 2011.
BUSINESS MODEL: When users sign up with Dippler they choose the kind of products they own and are interested in hearing about, allowing the company to very easily provide targeted offers to its users based on the kind of content they want to see.
INSPIRATION: CEO Matan Talmi explained that the product came from their team's passion for tech:
We are a team of gadget lovers. After missing out on many important firmware updates, cool apps, tech issues and other important content about our gadgets, we decided to help others stay updated on their gadgets, and created Drippler.
ON THE COMPETITION: "Other services don't provide personalized updates, so users typically have to work hard to stay updated (constantly search and browse the web) or simply miss out on lots of interesting info."
GROWTH: At the end of last year, Drippler's  presence among app users in the Android Market reached the milestone of 500,000 downloads, and recently, on February 9th, the iPhone version went up on its respective app store. Both versions are currently free.
SCREENSHOTS: