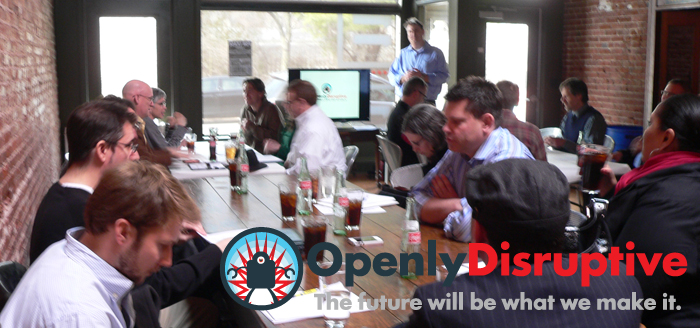 Next week Openly Disruptive, a St. Louis network of innovative minds, will hold its latest Disruptive Diner in which three local entrepreneurs will  discuss the importance of breaking free from the standard business model. Through its programs, the St. Louis group helps promote an entrepreneurial focus on disruptive and developing trends in business.
IDC Projects CEO Michael Anthony Orlando, RollSale's Mike Nichols, and Nebula Coworking facilitator Jason Deem will give presentations during the October 16th event. RollSale, which just recently finished TechStars' three month accelerator program in Boulder, has created an innovative service where car owners can find the best dealer offer for their vehicle in the local market.
"There's a lot of mentorship in St. Louis directed at fundraising and pitching, which is certainly important; in TechStars, we also were immersed in an environment where the pressure of rapid iteration and sprinting toward product-market fit was a living, breathing organism that breathed down our necks 16 hours a day," said Nichols. "When the OD guys asked me to speak on the topic, it seemed like a good chance to pay some of those lessons forward. I'm excited about the opportunity."
According to the event page, Orlando will discuss what the IDC team has learned from the mobile app studio's latest batch of projects, which include timed sorting game Order! and Motocross Sniper. Deem will share his experiences as a facilitator of the diverse and flexible business community at Nebula, the city's first coworking space located in the Cherokee Business District.
"We have more ways to gather resources, co-create with others, and value goods and services than in possibly any other point in human history," reads the Disruptive Diner event page. "Be part of a discussion on how we can learn the best uses of these innovations as we transition from established approaches to new opportunities to create value with less investment than ever before."
The October 16th event will be held in the Nebula coworking space, where each of the event's three speakers will give their talk in a "PechaKucha" manner, which tasks the speaker to deliver a fast-paced presentation limited to 20 slides at 20 seconds a piece. Tickets for the lunch run between $40 and $50, depending on whether or not you're a member; visit the Openly Disruptive homepage to find out more.