Hacker School is a three-month, full-time school for coders who want to improve their programming chops and gain experience working with free software and "beautiful code." But, like in much of the tech world, there are gender issues. Last spring, just seven women applied to the program, and only one was accepted.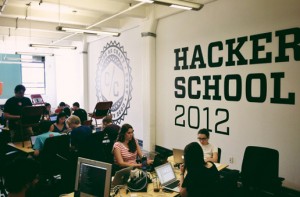 So Etsy, which provides space for the school, kicked off a scholarship program for female programmers, in which recipients get $5,000 toward cost of living in NYC – the school itself is free.
What happened next surprised almost everybody. The most recent session of the school, which began this month, received 661 applications from women – a 94-fold increase over last time.
This time around, "they received more applications this time from women named Sarah, than all applications from women for all previous sessions combined," wrote Etsy VP of engineering Marc Hedlund. "Hacker School has admitted 23 of those women for the summer program – exceeding our original goal by 3. It's been incredibly exciting to see."
Out of those 23, 18 women requested grants, which was eight more than Etsy had planned to provide. So Hedlund reached out to contacts he knew were interested in getting more women involved in engineering, and two of them – 37Signals and Yammer, the latter of which is reportedly likely to be acquired by Microsoft – pulled through and provided four additional grants each.
To Hedlund, who has been interested in combating gender imbalance in the coding and engineering worlds for some time, the scholarship's success represents a breakthrough. In a blog post originally announcing the scholarship, he noted the irony that an imbalanced work force at Etsy was powering a platform that supported many female entrepreneurs.
There's still a lot of progress to be made, Hedlund said, but this turnaround gives him hope.
"Walking into the Hacker School rooms and seeing a gender-balanced group of students, hacking on open source and learning to be better developers, is nothing short of incredible to me, given how unbalanced our industry has been as long as I've been managing," he wrote. "It almost feels like time travel, more futuristic than any technology project I've seen: a trip to the future of what our industry should and will look like."