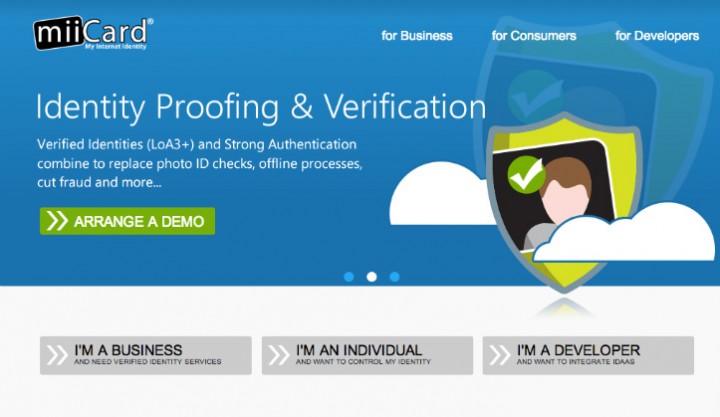 miiCard's CEO James Varga still winces when he remembers refinancing his mortgage a few years ago.  He'd log into the bank's website at night, when he finally had time, and book an appointment with a loan officer. Then life would get in the way, he'd miss the appointment, and the next night he'd start the process again.
After the third time, he'd had it. Varga got the mortgage – but only because his more-patient wife took over.
"When a business introduces too many off-line processes to on-line transactions, there's going to be a huge customer drop-out rate,'' he said.
Of course, Varga realizes that businesses can't take an online customer's identity on faith. It has become too easy for hackers to gain access to social security numbers, date of birth, all of the data that used to suffice for identity checks.  He knows that today's companies are between the proverbial rock and hard place – they can drive customers away with onerous identification processes or risk being a victim of, or a party to, fraud.
There had to be a way, Varga believed, to give people a rock-solid cyberspace identity – kind of a digital passport or drivers license.  The card holders would gain the convenience of one-stop shopping at their computer. And banks, liquor stores, pharmacists, anyone dealing in sensitive transactions, or high-ticket or regulated items would gain confidence that the customers typing away on those keyboards are who they say they are.
Thus the rationale behind miiCard (short for MyInternetIdentity), the company Varga founded in Edinburgh, Scotland, in 2011.  It leverages all the data that people have already provided their banks when they first opened accounts or took out loans.
"You've already done the identity check when you took out your checking account, you shouldn't have to do it again and again and again,'' he said.
In a nutshell, people apply online, miiCard accesses data from their banks, verifies their identity and their assets, and issues them a miiCard with a unique number.  They then use it to log onto participating websites.  Varga claims that widespread use of miiCard could eliminate as much as 80 percent of online fraud.
"Fraudsters can get your bank routing number or account number, but the only person who has your log-on details is you,'' Vargas explains.
The cards are free to consumers.  miiCard's money comes from businesses, who either subscribe for a flat fee, or pay per transaction.  miiCard is already used in such diverse online venues as dating sites and consumer-to-consumer sales. "I've seen statistics that say that 70% of on-line dating profiles are false, and I've seen people send $15,000 to someone in another country, and trust they'll Fedex  the watch they bought, " Varga said.  "miiCard adds authentication and traceability to transactions."
Still, Vargas is homing in on consumer finance and retail banking – and yes, he's gotten involved in authenticating parties to Bitcoin sales — for future growth. He's also homing in on the U.S., where he holds a business process patent on miiCard's methods for authenticating identities.  He chose St. Louis' entrepreneurial and startup ecosystem, deeming the region's resources a crucial component for the success of his first U.S. sales office.  Physically, it's between the West Coast startup mecca and the East Coast financial concentration, but without the cut-throat competition for attention that characterizes those areas.   Culturally, he sees huge parallels to Edinburgh.
"They're both relatively small towns with a lot of historical wealth and a real start-up ethos," he said.
It's that last part that really appeals to Vargas, at 41 an admitted start-up junkie.  A Canadian by birth, he and a friend started a direct marketing company in their senior year of college in Vancouver.  They soon sold it. His friend used the money to go back to school; Vargas used his share to travel.  He stayed for a time in London, fell in love and settled down in Edinburgh, his wife's home town.
A series of start-ups soon followed. There was an e-business consultancy at the end of the dot-com boom, when "businesses didn't know where to put their money."  Then came a company that sold methods for conducting on-line tests. Next came Beblu ("I just made the name up, it sounded good"), which made devices that could play music, surf the web, record TV shows and such.  Competing with the likes of Sony was daunting, so he shut it down.
Varga's real aha! moment came with his next start-up, a personal finance company called Money Dashboard, which helped people aggregate all of their bank accounts, debts and other personal financial data in one place, and would give them guidance on deploying those assets in optimum fashion.
"We could suggest that they could save $200 by consolidating debt or paying off a mortgage, but we couldn't help them do it,'' he said. "They had all of their financial information in one place, yet they couldn't complete transactions without filling out forms, getting things notarized, showing up at meetings."
Combine that business insight with the mortgage fiasco, and it seems almost inevitable that Varga would start miiCard.
"It takes five minutes to get a miiCard, 10 seconds to use it,'' Varga said.  "So yes, we're adding convenience – but more importantly, we're putting consumers back in control of their identities."