Summer means travel — what new apps are making traveling easier and more fun than ever for entrepreneurs on the go?
The following answers are provided by the Young Entrepreneur Council (YEC), an invite-only nonprofit organization comprised of the world's most promising young entrepreneurs. The YEC recently published #FixYoungAmerica: How to Rebuild Our Economy and Put Young Americans Back to Work (for Good), a book of 30+ proven solutions to help end youth unemployment.
1. Square to Get Paid Anywhere

I'm a big fan of Square. It allows me to accept credit card payments for books and other materials on my Android when I'm out and about at a speaking engagement or conference. – Alexandra Levit, Inspiration at Work


2. Hotel Tonight for On-the-Go Bookings

Hotel Tonight allows you to book hotel rooms the same day. I have friends who never pre-book hotels anymore — they simply fly into any major city and, upon landing, make a booking. – Matt Mickiewicz, 99designs


3. TripIt Is My Travel Bible

TripIt is absolutely incredible — it automatically pulls of your travel plans from your email into an organized app on your phone. You just click on the name of the trip to see reservation numbers, flight times, hotel check-in times and more all in one simple list. No more frantically searching through your email trying to find your booking number at the airport! – Laura Roeder, LKR
4. Join the GoGoBot Community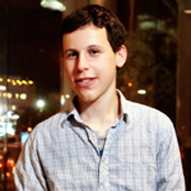 GoGoBot definitely makes travel more fun. It's a network that you just need to use if you're into traveling. – Ben Lang, EpicLaunch



5. That Weather App Is Necessary!

Being a travel photographer and entreprenuer, weather is extremely important to me. Not only does it help me plan my photoshoots for landscape images, but it also helps me prepare my day in a new city. – Angela Pan, Angela B. Pan Photography


6. Trippy

In the words of Hansel from the movie Zoolander, "Trippy is hot right now." This company has done a great job mixing the adventure of travel with benefits and tools of social networking. Good luck and happy travels! – Kent Healy, The Uncommon Life


7. Blurtt It Out While On the Go

This app allows you to add captions to your photos. In other words, when traveling, I often find myself in a situation with a great line to share with friends and family, Blurtt allows me to voice my thought and add a photo at the same time. The application is fun and easy to use — give it a try, add a photo to your caption and "say more with less." – George Mavromaras, Mavro Inc.
8. Always Go With Airbnb

Sometimes, hotels are just too expensive. I love Airbnb, which is a service where you can list and rent rooms/homes from private individuals. It's a great way to save money and, on occasion, find an awesome friend or business contact. – Eric Bahn, Beat The GMAT


9. Forget About Confusion With FlightTrack

FlightTrack helps keep you on schedule for flights and even provides maps of airports, which can get really tricky for entrepreneurs who travel a lot. This app even hooks up with TripIt, which can create an entire travel itinerary for you and put it on your online calendar. – John Hall, Digital Talent Agents
10. Give Others a Glympse

When I'm traveling, Glympse lets me easily update people on when I'm going to arrive where — it lets people see my planned route and updates continuously with my current location. I love being on the other end, too because it helps me tweak my schedule so that I know if someone is running late or early. – Thursday Bram, Hyper Modern Consulting
11. ClockworkMod Tether Changed My Life

I often take the train into NYC for networking events, but I wasn't able to do work on my way in since there was no Wi-Fi. After taking 15 minutes to setup ClockwordMod Tether, I was able to tether my Droid to my laptop — for free! Now I can travel and work virtually anywhere, anytime, without requiring Wi-Fi. It's empowering! – Matthew Ackerson, PetoVera
12. Everything With Evernote

Evernote has made my business and personal travel so much easier! When I'm traveling and on the go, I can take photos, type in notes or add flight information, and it keeps it all within reach. Whenever I need to seek them out again, I have them right there. Even if I take a photo, it will find what I'm searching for by identifying any text — whether on a sign, receipt or something else. – Steven Le Vine, grapevine pr
Image credit: morgueFile