Kickstarter is the go-to if you want to crowdsource funding for a ridiculous gadget, an album of ambient new-age electronica, a video game that hasn't been written yet, or a genre-pushing documentary film. Sometimes it separates the wheat from the chaff; other times, less so.
Here are some Kickstarter projects we're keeping an eye on this week.
Art/Tech: TagBot
Designer John Bent Cope is raising funds to build an unusual photo booth. TagBot snaps a picture, but instead of printing it out, it spraypaints your likeness on a range of flat materials. (Cope mentions wood and paper as possibilities.)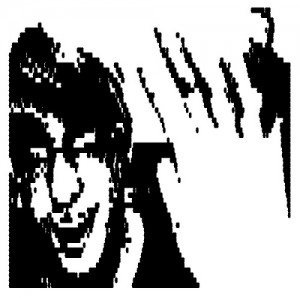 "If I'm giving people something to take home, I want it to last as a memento of what they experienced that day," he wrote. "I'd also like to be able to provide multi-color prints and demonstrations, and with spray-paint as the medium, each color must be bought individually."
The graffiti-bot will be Arduino-controlled, and Cope says he has made progress on the software side of the project. He plans to display TagBot at the Orlando Mini Maker Faire, which he hopes will encourage festival-goers to join the technology community, and inspire them to build what's in their minds.
$702/$300, 23 days to go.
Film: The League of Afghanistan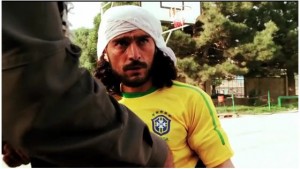 The League of Afghanistan explores the efforts of Jess Markt, an American who has struggled to bring wheelchair basketball the war-torn nation of Afghanistan. The film, which the filmmakers call a "universal story of inspiration and hope," is also intended to draw attention to the community of disabled people in the developing world.
"Disabled men are brought together through a game that teaches hard work and camaraderie, when camaraderie is often in short supply," they wrote. "Through the confidence born of sport, Jess seeks to repair their spirits as he did his own and forge a new team of athletes who can represent their country with pride."
The film isn't the first documentary to explore the marginalized world of wheelchair sports. 2005's Murderball provided a fascinating glimpse at the macho world of wheelchair rugby.
$24,428/$20,000, 8 days to go
Gaming: Map Monsters
Richard Garfield is best known for creating the popular trading card game Magic: The Gathering in the early 1990s. Now, Garfield has taken to Kickstarter to fund a location-based mobile game.
In Map Monsters, the cartoonish creatures players can collect in the game depend on where they are geographically located in the real world. If you can't find the monsters you want in your house, you could try walking downtown in real life – because that will affect the conditions in the game.
"Incorporating the player's actual ocation in the physical world into the game is a challenge, which hasn't really been done in many games before," Garfield said, drawing a contrast between his project and check-in services like Foursquare.
Map Monsters will be available for iPhone and iOS, and the team plans to port the game to Android eventually.
If you pledge more than $500, you'll get a monument in the game made "in your likeness."

$15,441/$40,000,
Design: Brydge
A frustrating thing about tablets is trying to type with them. The Brydge would be a MacBook Air-style keyboard and case that strap onto your iPad and turn it into, well, kind of a touchscreen MacBook Air.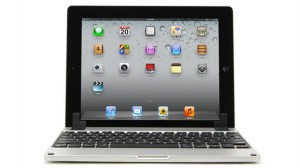 "This idea of turning your iPad into a high quality laptop seemed obvious to us and we were shocked when we could not find any accessory that accomplished this," the team wrote. "So we set out to make such a product from the highest quality materials that would compliment your iPad perfectly."
The problem, of course, is that once you've attached a keyboard, you've basically built a laptop. Still, the touch screen counts for something, and Apple has no plans to produce such a device.
Apple CEO Tim Cook recently dismissed the idea of an iPad/notebook hybrid, saying "You can converge a toaster and a refrigerator, but those things are probably not going be pleasing to the user." Little did he know that another Kickstarter project, Day Maker, was working to splice an iPhone and a toaster to create a really dorky alarm clock.
$201,450/$90,000, 37 days to go
Images: Kickstarter, John Bent Cope, BodSix, Kindling Group, Brad Leong