Thanks to the explosion of mobile and social media games like Angry Birds and Farmville in the past five years, everyone is a gamer. Now, a company called GameSalad wants to turn everyone into a game designer, no coding required.
The San Francisco-based GameSalad provides a platform used by creators to rapidly design, publish and distribute original cross platform games. Founded in 2007 by Michael Agustin, Tan Tran, Joshua Seaver, and Dan Treiman, the company released its first open beta of the GameSalad Game Creator product as Gendai Games, Inc. in 2009. That summer Gendai Games joined the Austin Technology Incubator before changing the name of the company to GameSalad in 2010. The company now has studios in Austin and Los Angeles.
The initial concept was to develop tools for "rapid prototyping" in the gaming industry. Michael Agustin began thinking about a tool set that extracted the most common features in a game and figured if he could abstract those features into an easy-to-use tool set, it would help studios develop games quickly.
What he noticed was he had come up with a tool that was accessible to non-programmers and helped democratize game development by making it useful to users that don't have a computer science background. Since then, the company has gone on to raise $7.1 million in venture funding from some of the biggest names in the business, including Greycroft Partners, DFJ Mercury, ff Venture Capital, and Steamboat Ventures.
Investors are excited about GameSalad because of the end to end game platform that the company has created. GameSalad helps users create, publish, and monetize games. The tools, available on Mac and PC, are simple to use thanks to a streamlined process that makes bringing games to market easy. Game makers simply "click to publish" and can choose to publish to the web (HTML5), Android and iOS platforms. GameSalad has attracted a strong following among established game makers who prefer GameSalad to traditional coding for the speed with which games can be brought to market.
Because the tools include monetization, and game makers can sell games in app marketplaces. "We've seen many developers build big businesses with GameSalad. Our company was founded on the belief that all people should have the tools to make popular games, limited only by the boundaries of their imaginations." notes GameSalad CEO Steve Felter. The platform has attracted 350,000 game developers since its launch.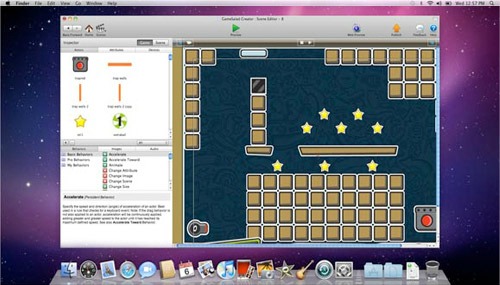 To date, GameSalad Creator has powered more than 80,000 original titles across mobile and web platforms. In 2011, more than 15% of all new iOS games were built with GameSalad. In addition, GameSalad has been used to create more than 60 Top 100 Games in the U.S. App Store, including Plexxr, Bumps, and Obliteration HD. GameSalad was also used to create Escape 3D: The Factory, a game that earned the number one slot in the App Store.
GameSalad offers a Pro version of the software for $299/year, which includes access to advanced features and monetization services. The company competes with both Unity and Adobe. "Adobe and Unity both have great products for game developers and both aim to help make the development process easier and more accessible. That said, they both still require a certain degree of technical sophistication in order to ship a successful game. We believe GameSalad addresses a gap in the market for creative individuals that have the talent to make great games, but not necessarily the technical skills required by other programs," says Felter.
The company democratization of game design is similar to the Tumblr's democratization of web publishing. GameSalad even offers a marketplace of game elements like music, graphics, and backgrounds that is like Tumblr's theme garden. Like Tumblr's swift rise to be one of the top blog publishing platforms on the web, GameSalad is poised to change the gaming industry thanks to its intuitive user experience and one-click publishing process.