Smartphone and tablet gaming has been on the rise for some time now, but there are still only a limited number of alternatives to the clunky touch screen controls that the majority of mobile titles use. A new Kickstarter campaign launched by Chris Jorgenson, owner of Portland indie game studio Cascadia Games, aims to eliminate the frustrations of touch controls by turning your iOS device into a full-fledged home console.
The new device, called the GameDock, enables avid mobile gamers to plug their device directly into a dock, connecting it to both an HDMI video out and two USB controller ports. Games can be played on a larger screen or directly on the mobile device itself, supporting up to two players at a time.
Jorgenson decided to create the gaming solution after working on a new mobile title and becoming frustrated with the limitations of touch controls. "It wasn't creating the authentic gaming experience that I wanted," he said. After spending some time developing a working prototype, Jorgenson and his partner, "the hacker," Andi Griesel, launched the Kickstarter to cover the very basic costs of production.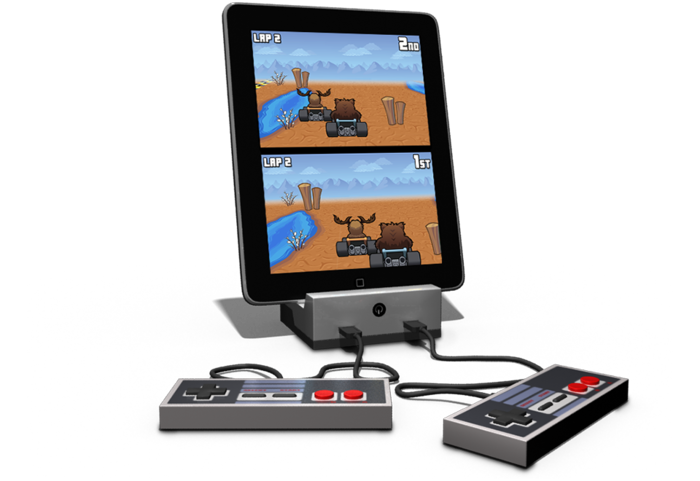 "Retro games will always have a special place in our hearts," reads the GameDock Kickstarter page. "For millennials and generation X-ers, these games remind us of our childhoods spent button-mashing and delighting in beautiful, pixelated worlds. It's time to do justice to the modern pixelated game renaissance with an iPhone accessory that brings an extra layer of authenticity to the experience."
Jorgenson aims to bring that extra layer of old school gaming by including two USB-connectable, original NES-type controllers in each package. The GameDock will be compatible with the same titles that are already working on the iCade, an iPad housing created by ION Audio that gives the mobile device the appearance and functionality of a miniature arcade cabinet. The creators of the GameDock are including an iOS app that will show gamers all the compatible titles once they've connected to the docking station.
The fundraising still has 40 days left to go, with more than $20,000 already pulled together by just over 200 backers. In terms of rewards, the team is offering the complete GameDock set and will even Tweet out a personalized thank you note for backers as low as one dollar. To learn more about getting an authentic retro gaming experience out of your iOS device, head over to the GameDock Kickstarter page.