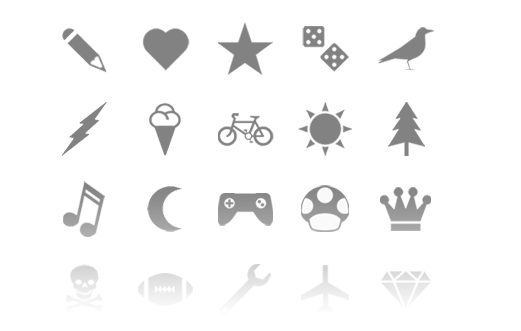 Imagine meeting someone for the first time before the era of smartphones and social media. You can't Google that person or find out where they're working from their LinkedIn profile. You can't search for them on Facebook to see if you have friends in common. You can't text them later to say how wonderful it was to meet up. Instead, you have to let the relationship unravel naturally.
In our hyper-connected lives today, our identities are already available online before we have a chance to get to really know people in the real world. It's like walking into someone's house before you even go on a first date. Thanks to a new digital identity app called Gliph, you can go back to the natural way of meeting people by revealing as little or as much information as you want.
Gliph is a digital identity that protects your privacy and puts you in control of your personal information. Gliph combines social tools and an encrypted data locker to make communication safer and more fun. The app is an SMS mobile messaging system that lets you communicate via a visual cue called an artifact. You can choose any combination of symbols to represent yourself, including an ice cream cone, dice, a thunderbolt, and more.
Co-founders Nick Asch and Rob Banagale met to work on Gliph at TechCrunch:Disrupt Hackathon in San Francisco. The duo saw a big market opportunity in the consumer demand for greater control over digital identity.
"We saw Facebook and Google+ ignore pseudonyms and give no one the option to be anonymous. It also bothered us that people are compelled to hand over personal information to internet companies with no idea how much it is actually worth. We also realized it was hard to stay connected with people you don't exactly want to give your cell phone number to," notes Asch.
The company also hit upon another pain point for users: People hate calling and emailing, but they love texting. Text messaging is the preferred method of communication for the digital age. More than 7.8 trillion SMS messages were sent in 2011, and SMS traffic is expected to reach 9.6 trillion in 2012.
Gliph's goal is to act as a trusted intermediary between consumers and businesses. The company's plan is to allow consumers to share their personal information when it will help them complete a transaction or sign up for a service. This new business model is called Vendor Relationship Management, or VRM. No longer will consumers have to create multiple dummy accounts that they use when they sign up for a service to intercept spam and marketing messages from brands. Thanks to the team's commitment to privacy and its innovative approach to solving the problem of digital identity, they recently received an award from the Privacy Identity and Innovation conference, Pii2012.
Gliph is not the only service that is seeking to solve these issues. Its competitors include Personal.com, Singly and MiiCard. According to the Gliph team, the company is differentiating itself by "combining useful mobile social tools with a digital data locker. We're also building trust by not forcing our users to identify themselves if they do not want to."
The company launched its beta at SXSW 2012. Its initial funding came in through the Portland Seed Fund startup accelerator, and the company is currently headquartered in Portland, Oregon. The team is currently raising a seed round, which will be used to support the ongoing product development by allowing more of its extended team to work full-time on the company.
Gliph has a few things going for it from a user perspective. First, the app makes a complicated and boring subject like digital identity fun. I signed on and chose my gliph, which is shown right here: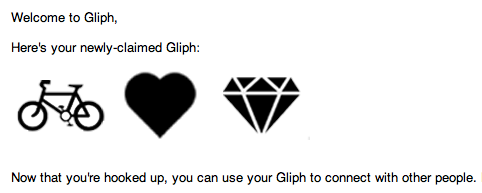 Once I picked out my artifacts, the first message that I received was from Gliph support. This welcome message helps new users understand the messaging system. Gliph is tackling a big problem, and its slick, easy user onboarding process is perfect for both digital natives and new smartphone owners who are just getting comfortable in the app environment.