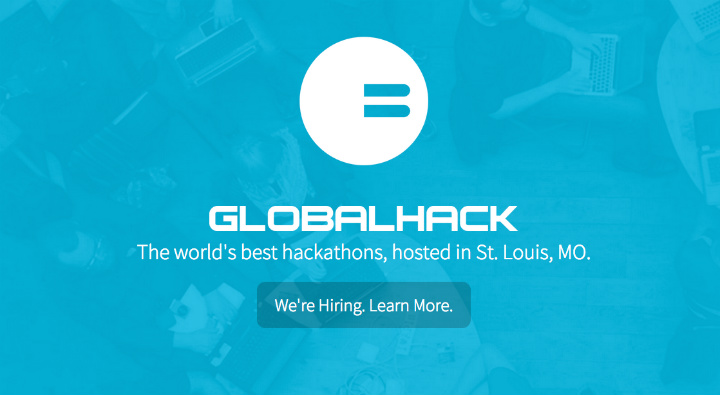 by Mark Sutherland
GlobalHack is a 501c3 organization with a focus on bringing together the brightest minds to solve real-world problems. GlobalHack IV is the first of two hackathons hosted by the organization in 2015. In 2016, the organization will host a $1 million hackathon. (See Techli's previous GlobalHack Coverage HERE)
GlobalHack IV takes place June 5-7 at T-REX in downtown St. Louis. Teams of developers, designers, engineers and students will compete for $55,000 in prize money. So far, more than 200 participants have registered to compete including three teams from the LaunchCode organization. LaunchCode was recently touted by President Obama as an innovative strategy that advanced technology training, and as a model that should be emulated.
Recently recognized by President Obama, LaunchCode alumni, CoderGirl and reBootU will represent the LaunchCode organization at GlobalHack IV. The teams will be sourced from CoderGirl, an all­-women coding meetup, reBootU, a coding class and training program for the long ­term unemployed and a pool of LaunchCode alumni. LockerDome, a social media company headquartered in St. Louis, will award $55,000 in total cash prizes, including $50,000 for the winning team and $5,000 for the top student­ organized team.
"It's a win -win for both our organizations," said GlobalHack Executive Director Matt Menietti. "GlobalHack provides an amazing opportunity for aspiring coders to gain real ­world experience valuable to future employers, and LaunchCode is an innovative coding program that produces individuals whom I expect to be top performers at GlobalHack IV."
"We look for opportunities for LaunchCoders to gain experience," Brendan Lind,
executive director for LaunchCode, said. "GlobalHack IV will give them the opportunity
to solve real­ world problems and work as part of a team. As participants, LaunchCoders provide GlobalHack with the talented, aspiring developers that make their hackathons world class."
"No one is too inexperienced for GlobalHack.," Menietti said. "The best way to improve your skills is to compete with people who are more experienced than you. Plus, our prize sponsors are often looking to hire junior developers."
You can register for GlobalHack IV at www.globalhack.org.