Google released a tool today that gives users detailed information on their own use of the company's products – an impressive and accessible information-gathering feat, but one with a potential backlash if it raises consumer awareness about the amount and detail of information that the search giant is collecting on a day-to-day basis.
Account Activity is an opt-in service that sends you a monthly report on your activity with search and other products – like what browsers, operating systems, and geographical locations the account has been accessed from, and top search queries. The report also includes email trends, including the number of messages sent and received, and changes in email volume month-to-month.
"For example, my most recent Account Activity report told me that I sent 5 percent more email than the previous month and received 3 percent more," wrote Google product manager Andreas Tuerk. "An Italian hotel was my top Gmail contact for the month. I conducted 12 percent more Google searches than in the previous month, and my top queries reflected the vacation I was planning: [rome] and [hotel]."
The company has also highlighted ways the service can bolster personal security.
"Knowing more about your own account activity also can help you take steps to protect your Google Account," Tuerk wrote. "For example, if you notice sign-ins from countries where you haven't been or devices you've never owned, you can change your password immediately and sign up for the extra level of security provided by 2-step verification."
But the rollout comes with calculated risk. The service could represent a liability for Google if it draws attention to how much the search engine "knows" about its users. Account Insights takes advantages of the company's recent privacy policy changes, which pulled an array of products under the same license agreement.
The service takes advantages of the company's recent privacy policy changes, which pulled an array of products under the same license agreement. That means that any threats to the new policy, such as a number of current lawsuits challenging the changes, could jeopardize the future of this or any other service built on the consolidated terms.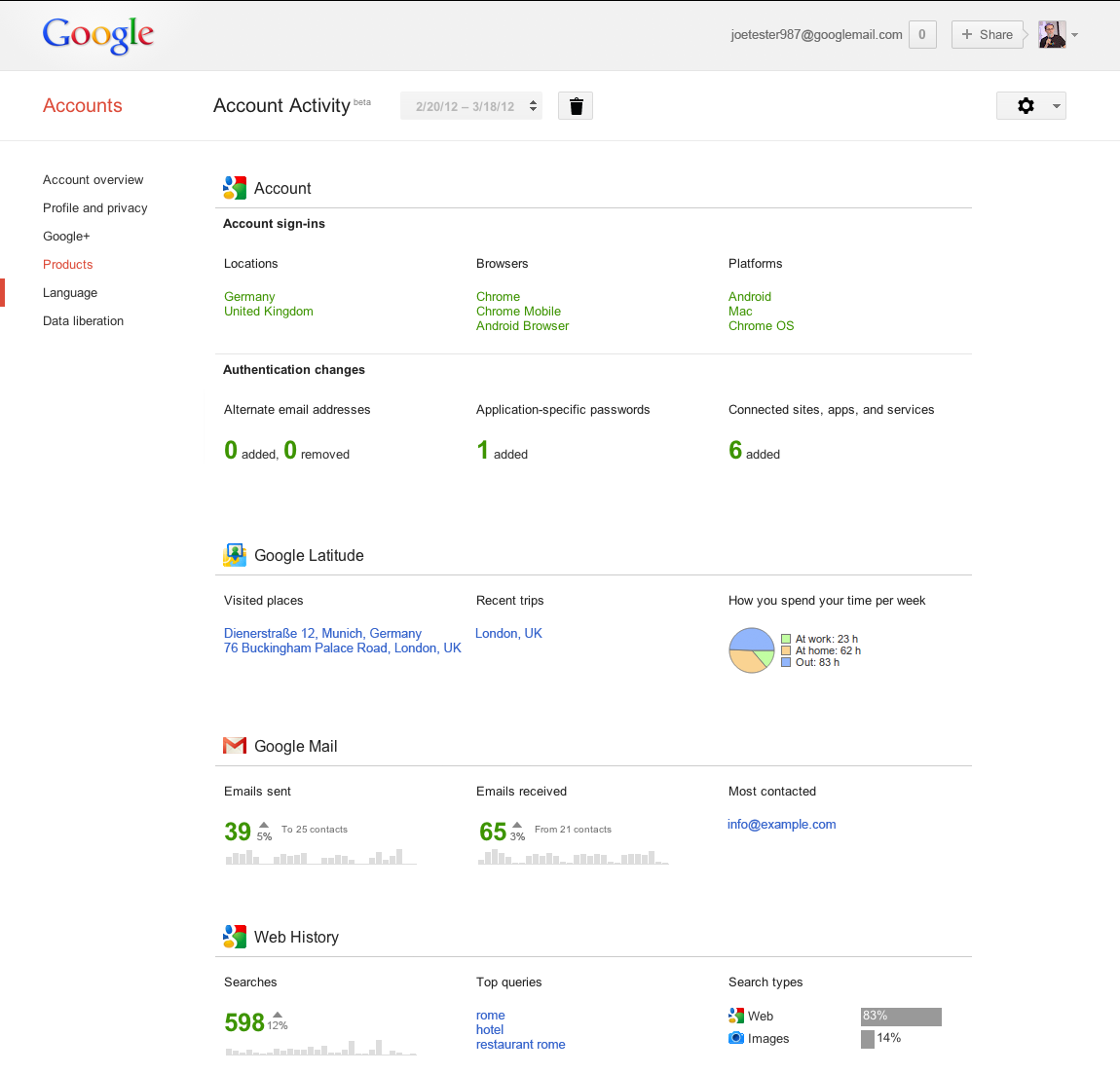 Images: Google, Columbia Pictures