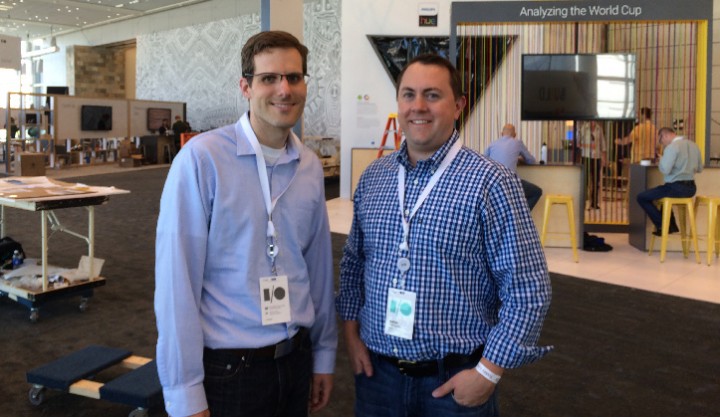 Like the Super Bowl is for football fans and "Baywatch" reunion specials are for Pam Anderson fans, Google I/O is kind of a big deal for developers. This year's two-day event, which kicked off June 25, features a number of big, glitzy launches and new whiz-bang innovations.
One such launch that could have an interesting impact on the future of consumer retail shopping experiences was launched by indoor retail mapping platform aisle411, which introduced a new functionality that will allow retail shoppers using Google's Project Tango to search and navigate to product locations while getting rewarded in retail environments.
Google's Project Tango was developed to create 3D maps of indoor spaces with the ability to show a user's precise location and orientation within centimeters of accuracy. With an expertise at taking complex data from retail environments and mapping it to make shopping easier, aisle411 was brought in to leverage the Project Tango technology and integrate it with its inventory searchable indoor maps for retailers.
"It's thrilling to work with Google's Project Tango team and to continue deploying mobile technologies that enhance the in-store shopping experience for shoppers," said aisle411 CEO Nathan Pettyjohn.
The implementation is being tested in key locations throughout the U.S. this year. The combined solutions from Project Tango and aisle411 allow users to search and navigate to specific products in a 3D augmented reality experience inside the store. Users of aisle411's in-store mobile marketing platform can also simultaneously discover personalized coupons, offers and rewards that "pop out" of the shelf along their in-store route, along with collecting loyalty rewards just for walking down aisles.
"We know that today's shoppers are engaged with their mobile devices while in store," added Pettyjohn. "They are smart and digitally savvy and in this highly competitive retail ecosystem, it's critical for retailers that their shoppers have the right tools to keep them engaged in the shopping experience. This new application is a fun way to shop and is sure to engage anyone using it."
Project Tango is a multi-partner effort with universities, research institutions and over 40 industry partners that builds upon over a decade of research in robotics and computer vision, concentrating that technology into a mobile platform. The performance of mobile processors are now just getting powerful enough to put this into the hands of consumers. Just one of the engagement features in aisle411's initial app experience includes the opportunity for loyalty points to be earned when the user "walks through a particular aisle and collects points," similar to a video game. Augmented special offers on the shelf can also then be "clipped" to the loyalty card.
The new Project Tango technology is being piloted in multiple Walgreens locations, as well as potentially with other major retailers, over the coming months – all with unique 3D augmented reality indoor maps and other engaging in-store experiences. These stores will join more than 12,500 retailers across the U.S. that benefit from aisle411's comprehensive in-store mobile marketing platform technology.