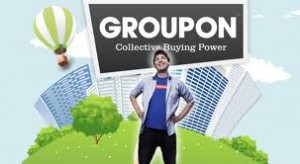 This past Friday Groupon finally went public with their long awaited Initial Public Offering (IPO) using the NASDAQ symbol of GRPN. Congratulations are in order for the three year old Chicago start-up that created the daily deal phenomenon. While this is the culmination of several trying months for the company, it is only the beginning for public investors.
It was a big day for the founders, employees and early investors; creating a lot of paper millionaires along with a few of the "cooler" variety, paper billionaires. This is on top of the most recent $345 real millions that were distributed to "Executive Officers, Directors and Promoters" from their funding round in December 2010.
This was a long anticipated offering, ever since Groupon filed their original Form S-1 back in June only to have to re-issue, clarify and scramble due to their unique accounting methodology — Adjusted Consolidated Segment Operating Income or ACSOI. On the heels of ACSOI, there was the widely distributed "internal" memo from the CEO during the "quiet period" extolling the greatness of the business and the hilarity of Groupon's detractors. Then throw in the resignation of the second Chief Operating Officer since March and you have a story that is likely destined for Hollywood. I could see Jesse Eisenberg pulling off this role maybe supported by Stanley Tucci and Kevin Spacey.
The stock closed up more than 30% on the first day of trading with many experts noting that they benefited from an unusually small float of only 5% of the company. A 30% IPO pop is respectable but not as good as other recent tech offerings like Zillow, which closed up 79%, and LinkedIn, which doubled on its first trading day. With a closing price of $26.11, the company has a market cap of more than $16 billion. I questioned the decision to turn down a $6 billion offer from Google back in December, but it looks like the folks on Chicago Avenue knew what they were doing.
As a Chicagoan, I am rooting for Groupon, but I can't bring myself to invest in them. They have experienced some growing pains, in addition to management turnover, the recent announcement to fire the bottom 10% of their sales force seems a bit cutthroat so I am waiting for that to play out. They were certainly first movers and they built that advantage into a $16 billion company, but they face stiff competition.
Groupon is operating in a highly competitive industry with a couple of 800-pound gorillas. LivingSocial is backed by Amazon, and Google is obviously willing to spend some money in this arena. This tough competition forces Groupon to keep spending on marketing and therefore continue to lose money. And let us be honest, aren't you suffering from daily deal overload? I sure am. How many mani-pedi's, massages, yoga classes, and haircuts do we really need? The daily deals in my inbox from Groupon, LivingSocial, Dealfind, YouSwoop, and so on generally get deleted pretty quickly, if I bother to open them at all.
As I am writing this on Monday morning, Groupon is trading down slightly, along with the rest of the NASDAQ, as we move from worrying about the debt problems in Greece to the debt problems in Italy. Welcome to the world of the publicly traded Groupon. Good luck and hopefully your stock price holds up for the next six months, or until your lockout period ends.
Not sure I have to do this but for full disclosure, I do not currently own or plan to take a position in Groupon.
Image Credits: finehomemoves and Digital Trends