Portland, Oregon's startup scene is poised to explode in the next few years. I've said it before, and now The Oregonian has backed up my observational claims with interesting data that shows just how close the tipping point may be. The publication has created an infographic that details the potential of startups to revitalize the state's economy, thanks to a few key metrics.
The most striking indicator that startup talent is rushing into the state is the growth index rate of startups when compared to the entire private sector. While private sector growth has remained stagnant from 2002 to 2012, the startup growth rate has more than doubled. While startup growth stalled from late 2008 to 2010, likely thanks to the global economic crisis, growth in 2011 spiked.
Another startling figure is the average wage of software startup employees in Oregon compared to the state's average wage. Software startup employees were paid, on average, $114,588 compared to the statewide salary average of $43,091. Most of the state's startups are located in the city of Portland, with a smaller percentage in neighboring Beaverton.
Although these numbers might have you packing your bags for Oregon, you might want to hang tight. Portland still has a long way go before the city surpasses established, but smaller startup hubs like Austin, Texas and Boulder, Colorado. Startups only account for 0.23 percent of all employment in the state. The Oregonian found that despite the high growth index, only about 200 jobs were created by startups in 2011.
Despite Portland's proximity to both Seattle and Silicon Valley, Oregon is working on an investment problem. A handful of dominant players, including the Oregon Angel Fund, have been working to provide a formalized investment structure in the state. But the real issue is that few Portland startups have launched the "startup mafia" model that occurs when talented early employees leave a startup with cash to invest after a successful exit.
This model has proven successful with the PayPal mafia just after the dotcom bubble, and the Facebook mafia that has been taking cash off the table since the Facebook IPO. In fact, it's been 2,762 days since an Oregon technology company has gone public with an IPO. Jive was once headquartered in Portland, but relocated to Palo Alto before the company's IPO.
Established talent like Joe Stump of Sprintly and Ryan Carson of Treehouse have recently moved to the Portland area to join the likes of the growing and diverse startup scene that already includes companies that have recently raised millions in capital like Janrain and Urban Airship. In the next five to 10 years, Portland's startup scene should begin to bear the fruit of the seeds that have recently been planted.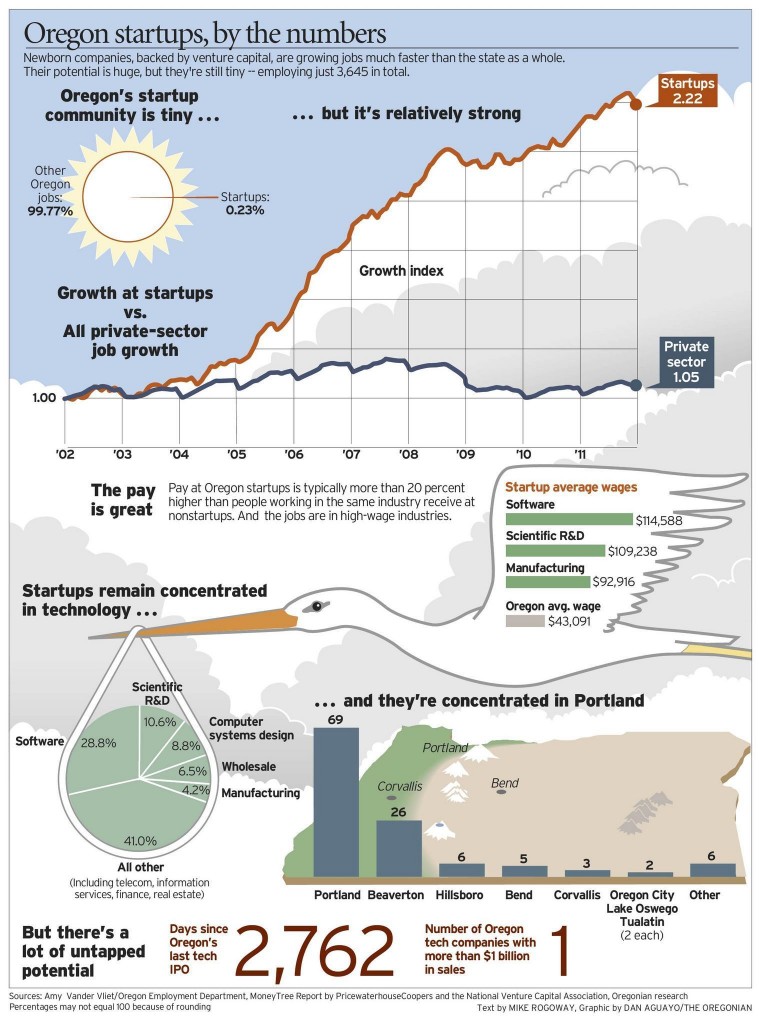 Infographic source: The Oregonian