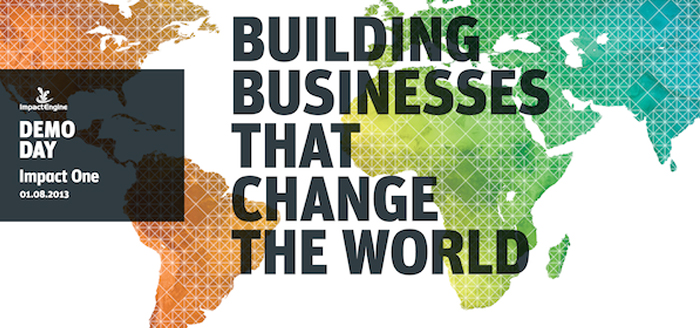 Impact Engine, the Chicago startup accelerator focusing on profitable social good companies, held its first investor day earlier this month. The accelerator is now on track for a final demo day on January 8th, showcasing its first class of companies to the Chicago community to prove that startups can be both socially conscious and profitable.
The 12 week program was originally conceived by Linda Darragh and Jamie Jones, who wanted to bolster impact entrepreneurship in the Chicago startup scene. After meeting with investors and entrepreneurs, the team decided a startup accelerator would be the most viable option for helping socially conscious for-profit companies grow in the city.
"What they found was that there wasn't really a pipeline established," said program manager Elizabeth Riley, who joined the team in the summer of 2011. "Even if investors were interested, they weren't sure how to find these types of companies. They decided there needed to be a hub for impact entrepreneurship in the Midwest."
Darragh and Jones brought OpenTable founder Chuck Templeton onboard as managing director and launched in October of 2011. The first class, which was narrowed from 30 promising finalists down to seven startups, is just now wrapping up its three month run that began in September.
On December 5th the seven participating startups were given the opportunity to pitch to an audience of over 300 guests, more than half of which were investors. The biggest surprise of the day, according to Riley, was the overwhelmingly positive response from the more traditional VCs who tend to shy away from investing in impact-focused for-profit companies.
"We changed a lot of minds about doing good and making money at the same time," said Riley. "We had a lot of people come up to us and say, 'Wow, now I get it.'"
Riley is hoping the trend will continue with the upcoming demo day on January 8th. Impact Engine's goal for its first ever demo day is to help encourage other social entrepreneurs who are thinking about starting their own venture. "We want to encourage other entrepreneurs who want to start a company like this and don't think there's enough support out there," said Riley. "It's really about building up the community… that's our big goal for our demo day."
Going forward the accelerator will continue to evaluate its program and likely make some changes based on what they've learned during the inaugural class. Riley said the program has already distinguished itself from other Chicago accelerators by being a much more fluid and adaptable program, pinpointing what each team needs help with and bringing in mentors as they're needed.
"It's more of a lean startup approach, in terms of iterating as you go along and not just planning it all out in the very beginning," said Riley.
There's no date yet for when companies can start sending in applications for Impact Engine's second class, but Riley said there will be more information following a round of investor meetings to discuss changes in the program for the new year.
"We don't want to just repeat the same thing if it's not beneficial to us and the community," Riley said. "Whatever direction we take the company we'll be focusing more on fundraising; that's a really big challenge in the impact investing community. We think you can have both profit and social good. I think figuring out where those dollars are and figuring out a way to incorporate that into the program a little bit more is important and we're still trying to figure out what that looks like."
Be sure to visit the Impact Engine website to find out more details about the accelerator's first ever demo day.