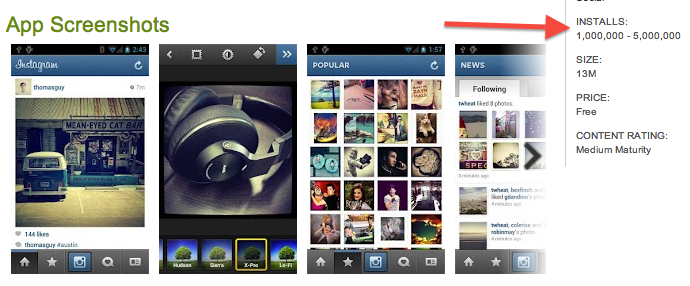 Since becoming available on Google's Play marketplace just yesterday, over 1 million users downloaded Instagram for Android, which has so far been available only on iOS.
Instagram's Android release was not an "overnight success," as the company opened up pre-release registration on March 24th and received some 430,000 signups.
For those who've come to know and love the photo-sharing app on iOS, they can rest easy knowing that little of the user interface has changed on the Android version, apart from some minor changes to conform to Android's visual standards. (TheNextWeb did a fantastic side-by-side review of Instagram for Android, comparing it with the iOS version. Its verdict: not much has changed, and that's a good thing.)
Instagram's CEO Kevin Systrom told the New York Times that as of yesterday afternoon the app was being downloaded at a rate of 2,000 per minute, which if sustained, would yield about 3 million downloads a day.
Given the success Instagram has already seen on the Android platform, it wouldn't be surprising to see the app hit 5 million downloads in the next few days.