Kickstarter is the go-to if you want to crowdsource funding for a ridiculous gadget, an album of ambient new-age electronica, a video game that hasn't been written yet, or a genre-pushing documentary film. Sometimes it separates the wheat from the chaff; other times, less so.
Here are some Kickstarter projects we're keeping an eye on this week.
Literary: Recommended Reading
Like Matter, a planned magazine that will publish just one long-form story a week, Recommended Reading will pick one exceptional work of unpublished fiction each month, in a deliberate effort to slow down the frantic pace of digital information.
"In this age of distraction, we'll uncover writing that's worth slowing down and spending some time with," reads the project page. "And in doing so, we'll help give great writers, literary magazines, and independent presses the recognition (and readership) they deserve."
The first stories to be published will be by Ben Marcus and Seth Fried.

$12,835/$10,000, 18 days to go
Gaming: Shadowrun Returns
Hardcore Gamer fretted this week about a Kickstarter gaming bubble. It's a worthy concern, but maybe veteran game designer Jordan Weisman's Shadowrun Returns, a followup to 1989's cultishly dedicated Shadowrun, will stave those end times off until, oh, December or so.
[O]n 12/21/12 magic will return, end this world, and wreak holy havoc while starting the next. Aboriginal cultures, who maintained their mystical traditions, are the first to feel the return of magic and use their newfound power to reshape the political, financial, and physical world around them.
Believe it or not, the plot thickens. And thickens.
Fast forward two generations, to a world transformed not only by the growth of magic but by the acceleration of cyber technology–a continual effort to improve upon the gifts that nature gave humanity; by the inevitable maturation of the World Wide Web into the Matrix–a network directly accessible by the human brain; and by the near elimination of governments as they are replaced megacorporations–monolithic entities who see only customers, not citizens.
At any rate, the tortuously complex and derivative plot should keep our attention elsewhere. Read more about the project to hear about dwarf babies.
$1,292,441/$400,000, 8 days to go

Film: Tacoma
Periodically, a film comes along that so perfectly encapsulates the Kickstarter ethos that it's difficult to imagine it being made before 2008. Tacoma ("a thriller about a real estate agent that wanted to be a dancer") might be one of those films, but its description is so deadpan that it might actually be fun.
"If you've always dreamed of becoming a big shot movie producer, but were held back by your refusal to move to Hollywood due to your deep love of Tacoma, we have the perfect opportunity for you," wrote Derek Young in Exit133, a blog about Tacoma. "Co-producers Linnea Freed Hess and Stewart Thorndike are working on a film set in our fine town and borrowing its name."
For $500 or more, you can name a character – and you get a pair of handmade legwarmers "with the color palette from the film."
$5,075/$7,000, 4 days to go.
Honorable mention: LowLine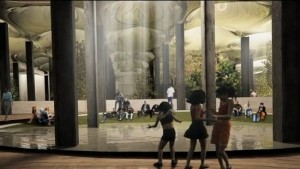 Maybe former NASA employees need a new challenge now that the space shuttle Discovery has been retired to Virginia. That would explain LowLine, a project by an NYC designer and a former NASA engineer to convert an underground former trolley station in the Lower East Side into an underground park, complete with greenery and refracted subterranean sunlight.
They describe the project in sunny (sorry) terms that it's difficult to imagine anywhere in NYC, nevermind underground.
"We think a year-round public space will be valuable for everyone," they wrote. "Farmers markets and vendor stands can feature fresh produce and locally made goods, supporting local and sustainable businesses. Art installations, concerts, and performances can help showcase the incredible creative spirit of the Lower East Side."
The MTA is interested, but the team needs to create a small-scale demo of the project to win official approval.
$155,186/$100,000, funding completed.
Images: Kickstarter, Harebrained Schemes LLC, Delancey Underground