Mike McGee and Neal Sales-Griffin aren't programmers, so at first it seems a little strange that they would start a company that teaches people how to program. But their startup Code Academy does just that and apparently they do it well.
CodeAcademy (not to be confused with CodeCademy) offers a 12-week course that teaches people how to build web applications in Ruby on Rails, a web framework made popular by fellow Chicago-style entrepreneurs Jason Fried and David Heinemeier Hansson of 37signals.
While their program now boasts of renowned teachers and mentors like Jeff Cohen, McGee and Griffin launched without any teaching staff. Actually, they launched without space or a curriculum too.
"We started with no money and no mentors, but we knew people in the Ruby on Rails Community and leveraged that," said Griffin.
And it worked. Within weeks, CodeAcademy had teaching space at Groupon, Rails expert Jeff Cohen's support, and many more applicants than they expected.
The Rush
When McGee and Griffin first posted the Code Academy application, they were just hoping  to fill 12 spots. But when the month-long application window closed, they had 88 applicants from around  the world, ready  and eager to pay the $6000 tuition. After an intense four days of interviews, McGee and Griffin selected 35 students into the program.
The first batch of students, who started in early October, came from a variety of professions like real estate, banking, and academia. Some wanted  a job, others to prototype an idea. Some students just wanted to understand their development team better.
Although everyone came in with an idea of what they wanted to do, those ideas have changed greatly over time. Sounds like a pivot to me.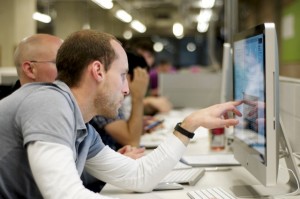 Other startups, like TeamTreehouse and CodeCademy, are trying to teach programming online, but Griffin says that just doesn't work. Instead, Code Academy believes most people will learn faster and better with in person mentoring.
"After 6 weeks I sat down with the students to see how we were doing, and they said we had already exceeded their expectations,"said Griffin.
The Future
When asked "what was next for the company", and McGee stressed that massive growth was not their first concern.
"We aren't trying to get too big too fast, we want to focus on quality," said McGee. "If we get too big and fail, we won't be giving these people a good education."
Programming education is a hot space, and it looks like Code Academy has struck a chord. If you want to be a part of their Winter 2012 program, you can apply here.