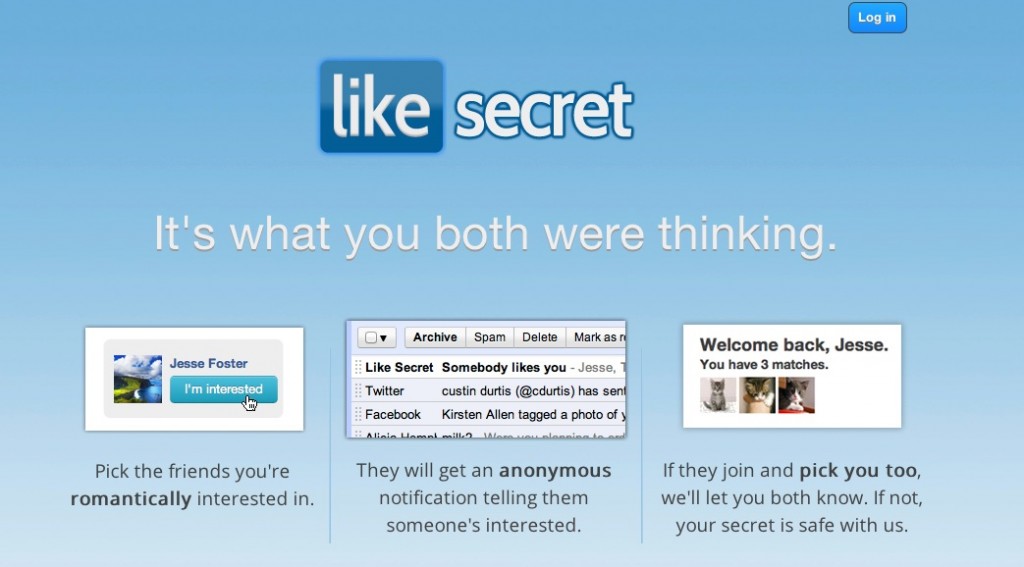 THE GIST: The genius of Like Secret is in its simplicity. It works through your Facebook account, allowing you to pick out friends you find romantically interesting. The service then sends your chosen few an anonymous notification and allows them to then go to Like Secret and go through the same process. If you happen to overlap and pick one another, the tension is finally broken when you're both notified of the mutual interest. If the friends chosen never overlap, the website reveals nothing and your secret is still safe.
FOUNDERS: Like Secret was founded by two college students on the West coast: Jesse Pollak in Pamona, California, and Drew Blaisdell in Washington state. The two first met on Hacker News and decided to start a company together.
COMPETITION: While there are countless dating services, some even offering similarly anonymous approaches, there aren't any that are this simple and, most importantly this free. Unlike traditional dating service that  pair you with strangers from their member database, Like Secret focuses on finding connections within your existing group of friends. Co-founder Drew Blaisdell explained why this is tapping into your existing social circles is so important to the service,
"a lot of people find meeting people or blind dates to be intimidating– we eliminate that fear because you should already know everyone you are interested in."
BUSINESS MODEL:  Like Secret is free, but Blaisdell admitted plans for premium features in the future.
FUNDING:  Like Secret is supported entirely by its two founders, though due to growth Blaisdell said they "may need to look into a bit of investor funding."
INSPIRATION: "My co-founder was thinking of a way to gauge his friends interest in him without actually asking them. The idea was born when he decided that a third-party service would allow him to circumvent any risk in asking people out."
SCREENSHOTS: