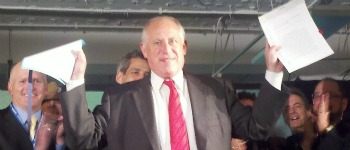 Monday, July 25th, 12pm – Illinois Governor Pat Quinn is on stage at Chicago TechWeek to sign Senate Bill 107 and House Bill 1876 establishing the second iteration of the TDA (Technology Development Account Program).
As reported on Tech.li here, the TDA increases the previous TDA program and will add an additional $150M – $200M to the states' investment fund, allowing state money to be co-invested with Illinois VC firms in entrepreneurial endeavors.
Additionally House Bill 1876 will establish technology centers on the campuses of the state public universities thereby fostering an environment of entrepreneurship on campuses statewide.
Here are highlights- this post will be updated with video after the signing is over
12:17 – Jon Pasky takes microphone and gives intro to TechWeek and introduces Gov Quinn
12:18 – Gov. Quinn takes microphone and thanks everyone for being in attendance
12:19 – Gov. Quinn has been reading Startup Nation (Excellent Book, BTW)
12:20 – Gov: "I am signing these bills because entrepreneurs are important to the future of Illinois"
12:21 – Sen. Dan Kotoski takes mic and thanks Gov. Quinn as he is "the only Illinois Governor to encourage technology innovation in Illinois
12:22 – Sen.. Kotoski says the TDA porgram creates thousands of jobs without spending one dollar of tax money thanks to the success of TDA I
12:23 – Gov. Quinn: (Thanks Kotoski) and introduces Rep. Dan Biss
12:25 – "In order to have high economic growth we have to rely on innovation and entrepreneurship" (AMEN)
Rep. Biss says the palce where Illinois has lagged behind in technology is in Venture Capital investment. (AMEN again- Did I mention Tech.li is raising a seed round this fall?)
12:28 – Gov. Quinn speaking about Innovation Council. Carolyn Nowitzki: "You need access to capital" to innovate. She would also like to see Venture Capital flow to Life Sciences companies as well. Nowitzki" "Raising capital is one of the hardest things a company has to do"
12:29 – Irv Shapiro, CEO of IfByPhone takes mic: "IBP is 3rd business I have started in Illinois. VCs always tell me to move to San Francisco because you can't build a company in Illinois. I am here to tell them they are wrong" (applause) IfByPhone has moved into a swanky new HQ across from the Sears Willis Tower on Adams and said it was due to Illinois' great business climate.
12:32 – Governor Quinn thanks other pols for showing up and distinguished guests.
12:35 – Gov. Quinn signs the news bills into law. Good for Illinois, and good for the Startup community.