This past weekend marked the 20th anniversary of Chicago's most popular music festival, Lollapalooza. With headliners like Eminem, the Foo Fighters and Coldplay, it's not surprising that Lolla beat its previous attendance record by 30,000, selling out with 270,000 tickets spanning the three days. Things have undoubtedly changed since Lolla's beginning in 1991. Ice Cube has been replaced with Kid Cudi and Pearl Jam with Pretty Lights, but things have also changed in terms of how people actually attend the festival.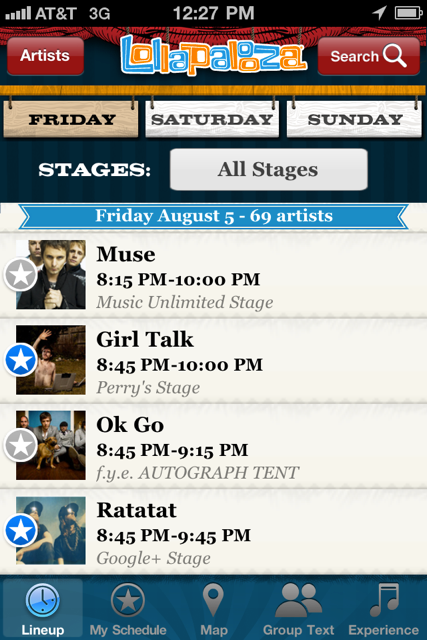 For the first time ever, Lolla introduced an official iPhone and Android app that was impressive to say the least. The free app featured the full line-up, grouped by day. The user could "star" the acts they wanted to see, and the app would create a personalized line-up and schedule. This was very useful when trying to plan your day, especially since users could also set reminders that would appear as push notifications prior to a starred performance. If you tapped on the artist, you were given a full bio as well as links to their website and social networks.
In addition, users could jam to "Lolla Radio," which featured two streaming stations: a 2011 station and a more old school 20th Anniversary station. Another benefit the app offered was a very detailed map of Grant Park. Not only did it show where the stages were located, but it also included the locations of ATMs, food, restrooms, water, apparel, and the ever-important beer tents. But wait, there's more – users could also drop a pin (a feature introduced by the iPhone Maps app) to show their friends where they were. By teaming up with GroupMe, a popular group texting service, friends were able to create a group to stay in touch throughout the festival.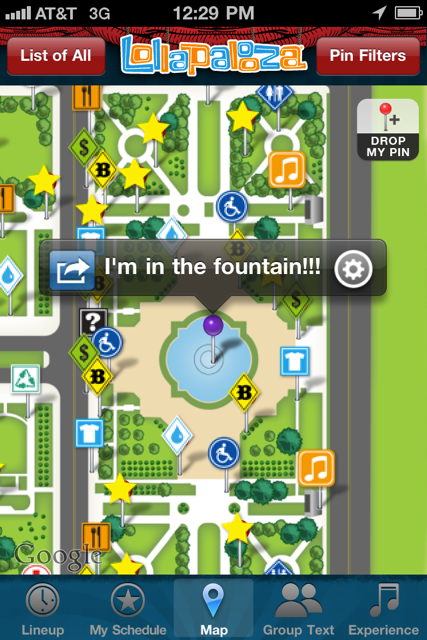 Think the Lolla app sounds too good to be true? The app itself is an amazing concept and runs flawlessly, but there is one extremely overarching and unfortunate problem: iPhone kryptonite (read: your network). If you own an iPhone, I'm sure you're familiar with trying to use your phone in large crowds. If you've been fortunate enough to avoid large crowds since owning an iPhone, the device basically becomes a very expensive paperweight (or they can substitute for a lighter during your favorite power ballad). With over 100,000 people in the crowd, the only useful part of the app was the schedule, which could be accessed if you opened it upon arrival. The map was also available, but wasn't able to pinpoint your location. The GroupMe feature was rendered completely useless, and if you did get a text to meet your friends at the Sony Stage, you might show up three hours late. Due to AT&T and Verizon's inability to handle the data demand, iPhone users were taken on the Delorean back to Lolla 1991.
While AT&T is usually the scapegoat for this problem, it wasn't unique to the carrier. After adding the iPhone to their network a few months ago, Verizon claimed that it would be superior to AT&T when handling large crowds and an influx of data. This was not the case at Lolla. Those with Verizon iPhones had just as many problems as AT&T users. This is a huge inconvenience not only for those in attendance, but the developers that worked on the app. I don't know when, or if, this problem will ever be fixed, but in a perfect world we would have been able to use the Lollapalooza app the way it was intended to be used: at Lollapalooza. Until then, we're going to have to do it the old-fashioned way.