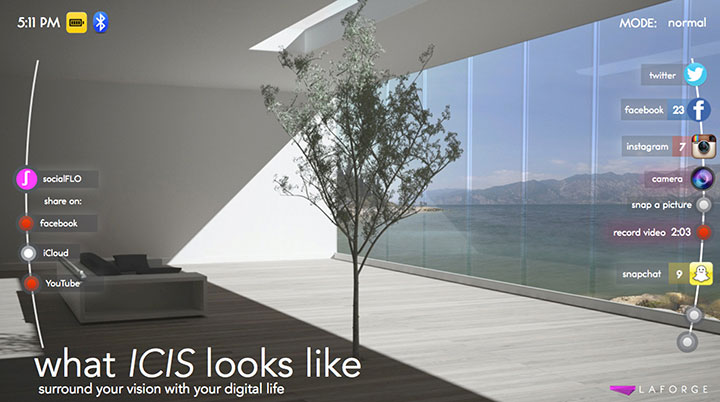 I won't lie to you.  I think Google Glass looks a bit ridiculous.  It's just not for me, but I love all the explorers out there for trying such an innovative product.  It's always fun to see you walking down the street in all your high tech glory.  You're early adopters, and it's awesome! But, it might be time to trade in your Glass for something that aims to be more stylish.
There's a new campaign on Indiegogo today that wants to help recovering Glass Explorers, newbies to wearable tech, and everyone in-between.  It's a product called Icis from LAFORGE Optical, and they're calling it "fashion-friendly" smart glasses.
Essentially it's prescription eyewear with a heads-up display providing you with smartphone notifications around your field of vision.  The product has been in development for the last 18 months, and the team is now ready to release it to developers and early adopters.  It has a camera, microphone, and speaker to complement your phone, which is connected via Bluetooth, and it can be tailored to fit the experience you want.
Corey Mack, founder and CEO of LAFORGE Optical, was quoted, "We want to blur the line between people's virtual lives and their real lives."  When I asked him about whether this is a good thing, his response was that by blurring these lines, he's offering a way to make your life better.  He explained it this way, stating, "I think it should be blurred because right now the biggest problem is the repetitiveness of it.  Always checking your phone when nothing is showing up.  What we're doing is stripping away a lot of the elements.  It's a way to do it that is less distracting."
Icis has three modes including normal, active and driving, which turns different functions on and off based on what you're doing, and the device is completely customizable.
Plus it looks better, for the most part.  Mack does acknowledge that the bar is set pretty low.  "You have things that look like ski goggles or a hair band with a toothbrush hanging off of it," said Mack.  "When you have a choice between something that you want to be seen in versus something you're embarrassed to be seen in, the choice will be relatively easy for the average person."
However, it's not his intention to be designing what is and isn't stylish down the road.  "Our goal is to someday have something like Ray-Ban or Oakley powered by LAFORGE.  We are here to set an example for how wearable technology should be used," said Mack on his long-term goal for the product. He also added, "Eventually we want to be able to partner with fitness trackers like FitBit and Nike Fuel Band to get you immediate access to exercise data."
There are several possibilities Mack and his team are working on, however where the product really stands out from Glass is the amount of attention they've paid to the device being a truly wearable tech.
There has been some discussion lately from explorers sharing that Google Glass has given them headaches after wearing them for extended periods of time.  Mack commented on the health concerns for his product.
"We've been working with eye care professionals on this problem almost the whole time we've been developing this product.  What we do know is that when you look straight ahead, there's not much eyestrain. When you look up and to the right, there's a lot of eyestrain," explained Mack.  "[Icis] is something that frames your vision so the middle is free.  But, ultimately, it's something we'll do a study on."
What do you think?  Of course, Mack is going up against Google, which is why he needs your help.  "The key is we are a startup that is going up against a very large company, one of the biggest in the world," said Mack.  "I feel like we need the support from the crowd and as much support as possible to make this happen, or you'll be subjected to looking the way they currently look for the next three years."
Are you happy with the look of Google Glass?  Check out Mack's alternative in the video below and see his campaign page on Indiegogo here.
Even if you're happy with Glass, you know you want to check out what could be the next big thing…  Click play on the video below!