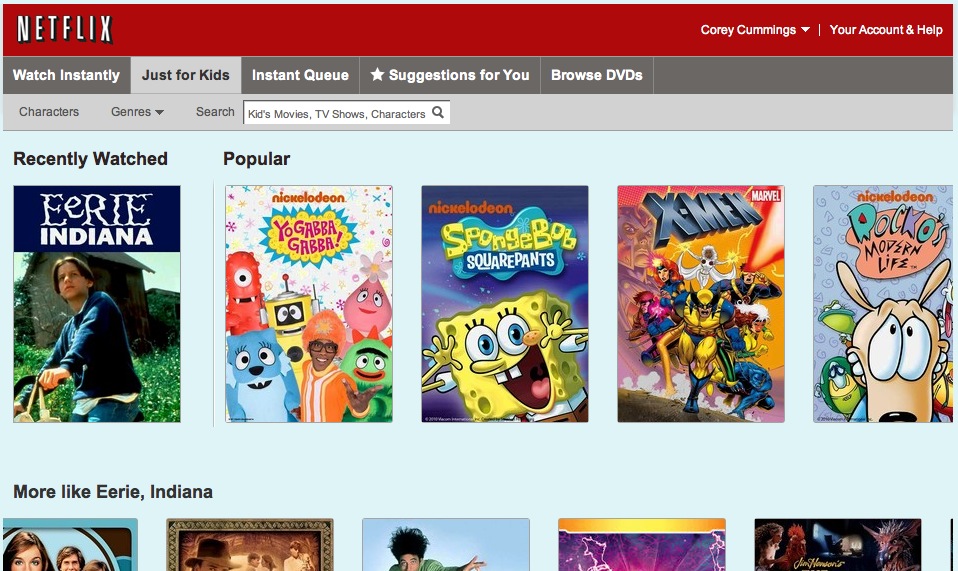 Netflix announced that it will be expanding its section of family friendly movies on the instant queue to its own space for the PlayStation 3, Nintendo Wii, Apple TV, and computer-based platforms. The new "Just for Kids" section lets younger viewers explore Netflix's offerings without the risk of stumbling into R-rated or other inappropriate content.
Formerly Netflix only had a single stream for shows and movies geared toward children, initially introduced in August of 2011. The new addition dedicates an entire space to both TV shows and movies for kids, which a press release today said. The content is organized by easy to understand genres like fairy tales, girl power, and my personal favorite, sing-alongs. The service now even allows you to pick content based on a range of characters. For instance, clicking Barney will take you to a page bringing together all the Barney content Netflix has to offer, which happens to be 1 movie and 63 episodes.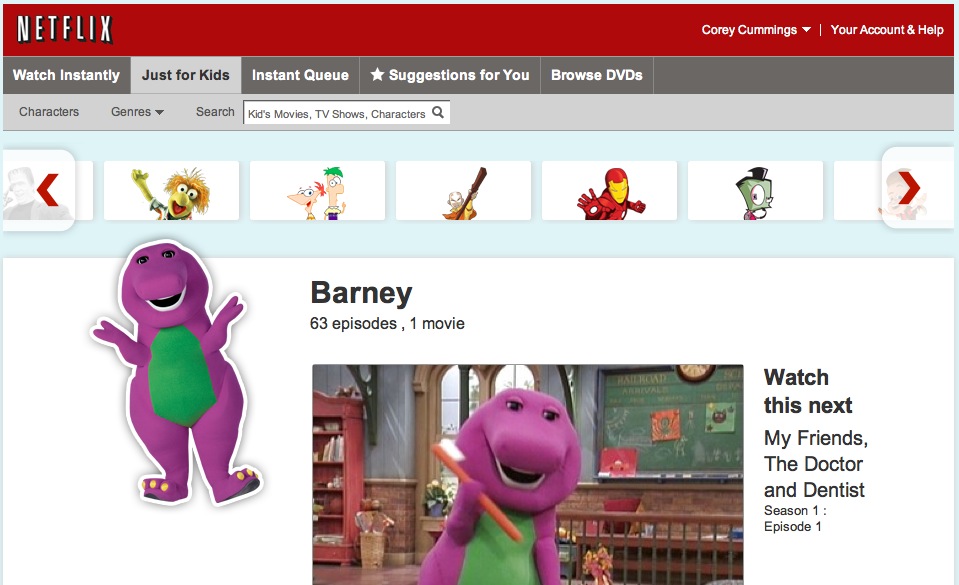 According to a press release from the company, selections for the channel were made based on Common Sense Media ratings. On their website, the corporation describes itself as a non-partisan, not-for-profit organization who provides "trustworthy information and tools, as well as an independent forum, so that families can have a choice and a voice about the media they consume."
Similar to its standard streaming service, Netflix will take your child's viewing history into consideration, offering recommendations and probable ratings for new content. The feature will hopefully prevent children strutting around the house, endlessly repeating "I'm bored," at least for a while anyway. The company plans to bring the new feature to the XBOX 360 and tablet devices at a later date this year.
The company estimates that over one billion hours of children-friendly content has been viewed on Netlix since late last year. The entirely kid-friendly section is a very welcome new feature for the streaming service, and certain to please content-conscious parents. If only something similar could have come along so many years ago, when a five year-old Corey turned on the TV to immediately see an alien bursting through a man's chest. Must have had HBO back then.