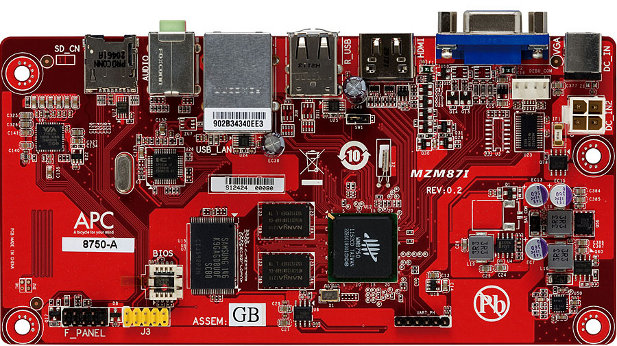 Taiwanese hardware manufacturer VIA announced a $49, Android-powered PC system Tuesday that invites comparison to the diminutive Raspberry Pi, an educationally-focused computer system developed and sold with the backing of a nonprofit organization.
Both devices run low-power ARM processors, and fall well below the standard price and footprint ranges for home computers. It's not clear whether VIA's offering, the APC 8750, will be sold without a case like the mod-friendly Raspberry Pi.
A VIA spokesperson used an unusual metaphor to introduce the computer, comparing the lightweight computer to another common, low-cost device.
"APC brings the familiarity and convenience of Android to the PC at a US$49 price point that will open up exciting new markets and applications," said VIA marketing vice president Richard Brown, in a press release. "Like a bicycle for your mind, APC will enable more people than ever before to explore the vast online universe."
The APC measures 17 by 8.5 cm, to the Raspberry Pi's 8.5 x 5.3 cm. It has twice the RAM, with 512MB, and will ship with a modified version of Google's Android 2.3 operating system.
In contrast to the Raspberry Pi, VIA is working to define the computer as a step toward internet connectivity in new markets, emphasizing its role as a low-cost access point and its modest power consumption. Screen shots show the device loading web pages and navigating a graphical user interface.
"It is the Internet that now defines computing," reads a VIA page on the upcoming product. "When you begin here, magic happens. Expensive, overpowered CPUs and bloated software are no longer relevant. With this awareness, we were able to drop power consumption to the point of making an energy-saving light-bulb jealous."
It's strange, given that focus on web connectivity, that the device does not appear to come with integrated Wi-Fi.
Another miniature computing product, now available for pre-order, is the Cotton Candy, or Cstick, a PC in the form factor of a large USB drive, with HDMI and USB outputs. And Ubuntu, a popular Linux distribution, is building expectations around an upcoming version of their flagship operating system designed to run a desktop-style environment on docked Android smartphones simultaneously with the handset's main system.
Image: VIA