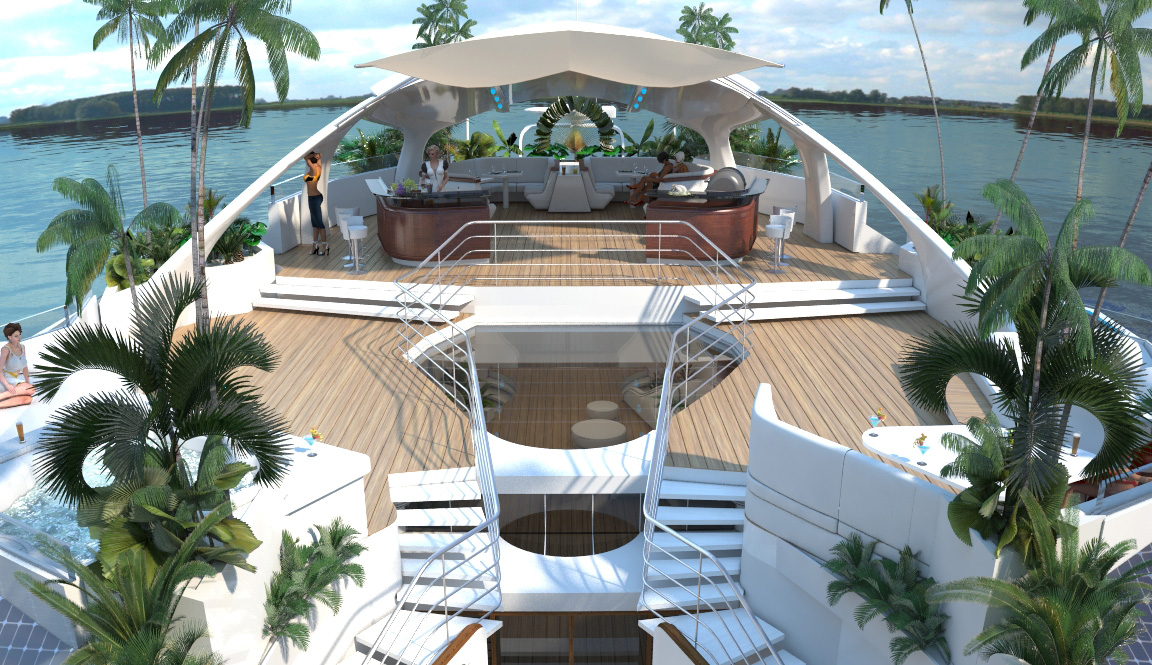 If you've been mulling over your next big luxury purchase, but still find yourself lying awake at night worrying about the environmental impact of your fleet of yachts, look no further than OrsosIsland's floating luxury getaway. This nearly 10,000 square foot island can comfortably host up to 12 residents, all while maintaining a respectable level of environmental consciousness.
The craft features many of the same amenities as your average luxury yacht, including a sundeck, six double bedrooms, a kitchen with pantry, a laundry room, movie theater space, separate crew quarters, and a lounge with a bar on the main interior deck. The OrsisIsland website estimates that, on top of residents, the craft can host up to eighty guests. The company says that the OrsisIsland is both cheaper to own and operate, in comparison to most yachts of the same size.
Tourism expert Gábor Orsós founded the company behind the ambitious concept just this year, aiming to "offer entirely new possibilities for living space design." Check out the video below to take the dizzying, horn-filled virtual tour.
More impressive than its outrageous amenities and design, the craft boasts some serious green technology. The OrsosIsland is equipped with a noiseless wind energy system and 1,700 square feet of solar panels that will soak in energy during the daytime. According to the website, the craft uses a heat recovery process from the surrounding ocean water to power both its heating and air conditioning. "These properties make the Island an exceedingly environmentally friendly and sustainable residential property or vacation and leaves no lasting impact on nature," the company says.
In order to utilize all of its resources properly, the craft features batteries to store excess energy as well as an "intelligent" computer management system to route the energy when and where it's needed. To round out the green experience, the OrsosIsland even features a variety of fauna on-board the vessel.
The OrsosIsland website doesn't offer any specific pricing on the luxury craft, but I've got a feeling it's far more than I'll ever have in my bank account.