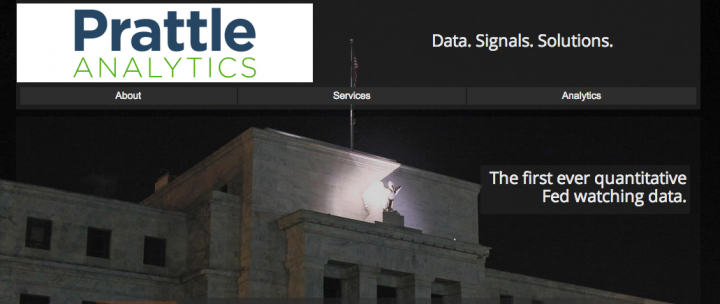 Bill MacMillan and Evan Schindman are the cofounders of Prattle Analytics and just closed a $250K seed round following their win of an Arch Grant earlier this year.
Prattle Analytics core data products are based on central bank communications; for the lay person, it means they analyze all the speeches made by financial executives and politicians about financial policy, press releases, meeting minutes, a banks position on inflation (and on from there).
They take all that information from the market and turn into measurable, actionable data points that they sell to their clients, who are made up of mutual funds, hedge funds, wealth managers and the whole middle tier of the financial services industry.
A small example of how they work: A bank executive makes a speech on financial policy and Prattle assigns a score to it as it relates to monetary policy and shares it with clients.
"Prior to Prattle, quantitative data on financial policy did not exist," said MacMillan, "and the whole financial services industry used to make big decisions made off of glorified guesses."
Briefcase As Oracle?
A famous example of this is the, 'How Thick is Alan Greenspan's Briefcase?' game.  When Alan Greenspan was Chairman of the Fed, the financial industry would look at his briefcase when he addressed Congress.  They would base their investment decisions on how thick Greenspan's briefcase looked.  If it looked thin, they assumed it meant there wouldn't be any changes to policy.  If it looked thick, they assumed changes were coming and acted accordingly. (And we are shocked the whole financial system almost collapsed a few years ago)
Prattle is seeking to remove the guessing game from finance by using analytics derived from their research.  Schindman's research focused on the mathematics of finance and MacMillan's research focused on the statistics of economic government policy.