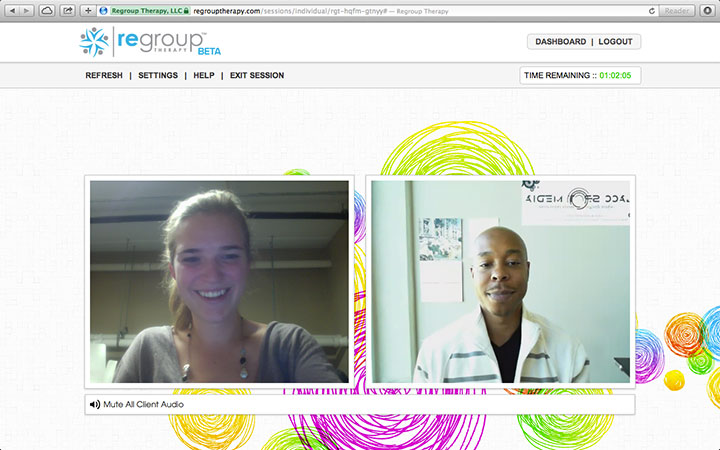 Speaking in general, we all want to live healthy lives, take care of ourselves, and for the most part, we'll at least think about going to the gym every once in awhile.  After all, it's something that we know we should do, right?  What about your mental health?  Have you thought about seeing a mental health professional?
Unfortunately, there's still a stigma surrounding this field that continues to penetrate our mental psyche.  Why are we embarrassed to seek professional help for our minds?  However, that's not the only problem.  At least 28% of Americans are living in a federally designated shortage area for mental health support.  So, even if they wanted to visit a mental health professional, they don't have access to one.  David Cohn, Co-Founder of startup ReGroup Therapy, has a solution to make mental health professionals more accessible.
It's a simple concept, really, that Cohn along with his co-founder are offering.  ReGroup Therapy provides an easy, secure, online platform for licensed mental health professionals to extend their services through web chat.  That's right.  No more worrying about who you'll run into at your therapist's office.  You can connect with a therapist or support group right from the comfort of your own home.
"I think we all assume that most of those users are in rural areas, but that's over 89 million people," said Cohn regarding the mental health shortage area statistic.  "It's crazy.  Imagine if 89 million people didn't have access to a general practitioner.  So what happens is they go in to the emergency room where there's no mental care.  It's extremely expensive for the system, and they don't get the care that they need.  We need innovative techniques and vehicles to get to these people and that's one of the main reasons why Regroup Therapy exists."
ReGroup has what they call a "very typical story for a startup."  When they first began in October of 2010, it was quite different from their offering now.  "The first iteration was group therapy for women with postpartum depression. It was very specific and very focused.  It took us about a year to build it," said Cohn.  "We launched a very minimum type product, which was very well received, but therapists and clients were saying you're trying to do too much.  We were hiring therapists, telling them what to charge, etc. and we were over complicating it.  People said technology is awesome, but just get out of the way.  Give us the tool to do it ourselves.  We don't need you.  And the truth is, it made life a lot easier for us."
Today, you'll find a complete online community for mental health with video support for various support groups and access to individual therapy sessions.  It's flexible, and allows individuals to get the support they need, the way they need it – in an environment that's safe, secure and easy to use.
"The key point with mental health is there are specific requirements. People who don't feel well, they can't be bothered to configure video software," adds Cohn. "It has to be something non-tech savvy people can use, and it also has to be integrated with other functionality. You need to collect payment from someone before the session and you need it to work really well across platforms, over connections that vary in quality.  You just can't do that with products like Skype.  You never know where your data is."
He did comment further that Skype is not all bad and there are ways to make it secure, but your therapist is likely not the person who can do this.  With ReGroup, they've taken care of that no matter your technical skill.  Of course, right now their demographic is likely more tech savvy individuals with it primarily being 18-40 year olds with a slight skew toward a female client base.  That could change as Google has decided to take a step toward the mental health industry with Google Helpouts.
"With Google entering the market there is going to be a lot of attention on mental health.  So we're going to build awareness, and that's a good thing," said Cohn.  "But people should think very carefully about what kind of service and quality they want.  There are big advantages to someone who is dedicated 100% to mental health services and nothing else.  And we think they'll find that ReGroup Therapy is a lot better."
Cohn is no stranger to therapy, even though his educational background is not based in this field but rather on the business side of things.  He has spent a large amount of time consulting for CIOs of billion dollar plus companies in Latin America. "When I started doing therapy myself, which was when I was like three.  It was extremely helpful for me and probably saved my life.  Seriously," said Cohn.  "And, I just always wanted to get involved but studied economics instead of psychology [in college].  I regretted it.  This felt like a way back to something I was passionate about."
Now, you might be thinking that online therapy sessions can't be as effective as sitting with your therapist or support group.  Cohn replied, "I have about 20 studies saying that it is as effective if not more.  And the second point is what about the 28% who have no access?  Could it possibly be better not to give them any support than to give them support over video?  You get the visual cues.  The audio is fantastic.  Between the research and 28% of the country that has no alternative, I think it would be irresponsible for us not to be here."
Right now, ReGroup has a lot to be excited about. "We're excited to really accelerate our growth, and we're already growing at a good clip," said Cohn.  "We're seeing about 60% growth in traffic and formed some very interesting partnerships already.  I think people will see us grow in a big way over the next year."
Currently, they're focusing efforts on a responsive design website, making many features of their website available on mobile devices.  However, actual therapy sessions will likely not be part of that.  While they could technically offer it, they don't want people to be tempted to do their therapy while they're on the go but rather in a comfortable environment that allows them to focus.
What do you think?  Does a service like this make you more inclined to take better care of yourself mentally?