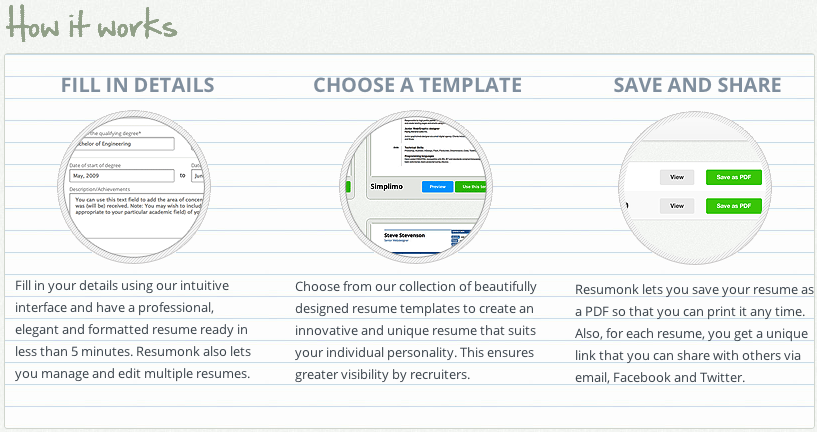 When designer, developer, and Delhi College of Engineering student Bharani Muthukumaraswamy began searching for internships, he hit a roadblock that most designers could relate to – existing resume-builders creating ugly, drab resumes. Muthukumaraswamy knew that his potential employers would on average spend only 20 seconds scanning his resume, and he wanted to make an impression, not blend into the stack of uniform applications.
"When I was applying for summer internships last year, I had a really hard time formatting my resume using MSWord. I also tried using a few of the resume builders that are available online, but I was not satisfied with any of the existing ones and I thought that I could create a better and simpler resume builder."
The first time start-upper began developing Resumonk, a dead-simple, super sleek resume builder. Design and usability were the main focus of Resumonk, which offers users the ability to edit templates and reorder their resume with a simple drag-and-drop function. Additionally, users can control their resume's colors, and add custom fields for extra categories like projects, publications, and volunteer work. Through Resumonk, users also have the ability to create as many resumes as they want, host them in the Cloud, and control who they want to be able to view their resume. Each resume can be given a custom URL that can be shared via email, Facebook, Twitter, or saved as a PDF.
"The only philosophy that I believe in is that usability is the most important aspect of any software. Web apps should be as user-friendly and intuitive as possible."
Resumonk is free to use although there is a PRO version for $9.99 that allows a user  to import a LinkedIn profile with just one-click, extra templates, and complete analytics for all resumes. In only a few months, the product has helped over 2,000 people create professional resumes – and it probably helped them land a few jobs.
Having just been one of those employers scanning through hundreds of resumes, I can say that after my 25th resume, it becomes hard to not judge a person by their cover. I saw bad Photoshop resumes, white-type on black-background resumes, five-page resumes, resumes in Comic Sans (really, come on people), and a resume with about every other visual atrocity imaginable.
None of those applicants got the job. Did I have a prejudice against a perfectly great resume written in comic sans? Or did I assume a person that favors Comic Sans wouldn't be the right fit? Probably a combination of both, but the moral of my story is, design matters.