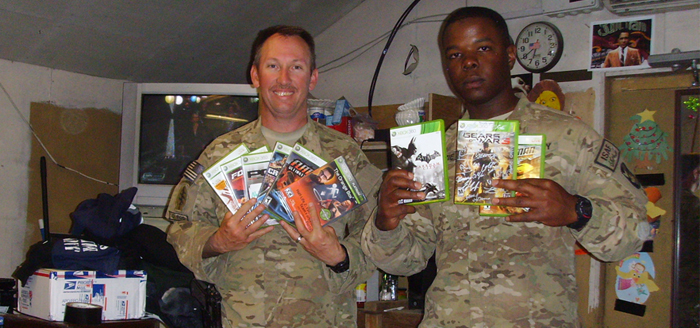 Charitable organization Operation Supply Drop will be holding an 8-Bit Salute to Veterans in celebration of Veteran's Day this month. The November 10th event will be held in select cities across the US, including an event just outside of Chicago at Game Pazzo, a multi-purpose gaming center located in Downers Grove. The Chicago event is being organized by Kona's Korner and military veteran gaming website Off Duty Gamers.
Operation Supply Drop aims to provide much-needed video game distraction to military personnel serving overseas. Founded in 2010 by former Army Airborne Ranger Captain Stephen "Shanghai Six" Machuga, Operation Supply Drop has raised more than $60,000 to send gaming packages to military bases abroad.
Having served eight years in the Army, Captain Machuga knows first-hand the kind of joy that the distractions of gaming can bring to a soldier serving in a combat zone. "When soldier's aren't outside the wire on patrol, they're playing video games," said Machuga. "Our packages are an immeasurable morale booster for the soldiers."
Funds raised during the November 10th events will go toward purchasing the gaming gear and games that make up Machuga's packages. The Downer's Grove celebration will include a variety of gaming stations, live music, food and drinks, and raffle prizes. Even if you can't make it out to the gaming-themed celebration of our country's veterans, Kona's Korner will be live streaming the event on Twitch.tv.
Anyone looking to donate directly to Operation Supply Drop can do so through the organization website. The 8-Bit Salute to Veterans has already amassed $400 to bring games to the soldier's who need them most, and it's safe to say that we'll see that figure increase dramatically before the November 12th deadline. Other events are being held in New York, Los Angeles, Dallas, and Las Vegas, so if you're in any of those areas swing by this Saturday to show support for our gaming brothers and sisters overseas.
"Troops are accustomed to getting care packages from strangers full of baby wipes and socks," Machuga said. "Our care packages are designed to blow their socks off."
Image credit: Operation Supply Drop