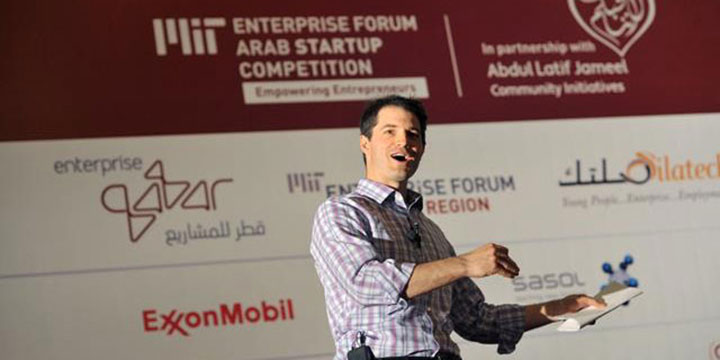 An unmistakable pattern pervades Dougan Sherwood's resume.   He tried a business major in college, but "couldn't get into it," switched to a major in history with a focus on American Indian studies, interned in the late Ted Kennedy's office, worked for the National Youth Leadership Forum, and organized bicycle fundraisers for injured veterans.
Even the jobs he didn't get – making an unsuccessful bid for a spot in the Bureau of Indian Affairs, for another in the Bureau of Land Management – fit the pattern.
So what's Sherwood, 39, doing now? He's the co-founder and managing director of the innovative Cambridge Innovation Center's first foray outside Massachusetts: CIC St. Louis.  It's a hybrid incubator/hotel/concierge service for startups that is launching in the old Western Electric building in the Cortex Innovation community at Boyle and Duncan streets in the city's Central West End, and it hopes to eventually house as many as 100 companies.
Now you're thinking – a social do-gooder running a for-profit business center that's potentially one of the crown jewels of the St. Louis startup innovation scene? Sherwood sees no disconnect whatsoever.
"Individuals, small groups working ad hoc, they will harness clean energy, help people with cancer, solve the world's problems," he said.  "CIC nurtures passionate, driven people who are finding all sorts of new ways to affect change."
In other words, people like Sherwood.
First, the passion part.  Sherwood, who said he's been diagnosed with low-level ADD, has struggled mightily to find his.
"I always envied my younger brother," he said. "He knew he wanted to pilot boats from the time he was a young kid, and that's what he does today.''
Sherwood's quest was a bit more, shall we say, peripatetic. He grew up in Cape Cod and went to the University of New Hampshire and UMass at Boston before finally getting an undergraduate degree from the University of Utah.  He tried going for a masters at George Washington University, but dropped out after a year. In addition to all those non-profit jobs, he started his own company, the Western Institute, aimed at broadening young people's experiences through outdoorsy-type programs in the Southwest. It lasted less than two years. "I could write five books on what I did wrong with that company," he said.
As he floundered, career-wise, Sherwood figured he might find inspiration by surrounding himself with smart people doing smart things. He'd heard about the CIC and applied for a job.  In 2000 he got one.
The CIC was a very different animal in those days. It was an all-inclusive incubator, housing the startups, handling their business functions – legal, human resources, design, financing, the works — and taking equity pieces of each. All was well and good until the dot-com bust of 2000 turned tech startups into pariahs. Money dried up. CIC had grown to 50 full-time staffers.  By early 2001 it was down to four.
Sherwood didn't survive the cut. He moved to Washington, but stayed in touch with Tim Rowe, CIC's founder.  Sherwood watched as Rowe retooled the company, from full-service incubator to a meld of commune and workspace. CIC provides space and copiers, coffee and gemutlichkeit to startups, but now law firms and banks and other specialists are there right along side them offering their expertise.  The companies don't even have to sign leases, giving them maximum flexibility to grow or shrink
CIC itself steadfastly grew. It has a second facility in Boston, and recently spun off Venture Café, a non-profit entity that hosts events. It attracted tenants beyond startups – Google's Android division took space. Inevitably, it began to look for other cities where it could replicate the CIC model.
Sherwood, meanwhile, reconnected with a college flame, and in 2006 he moved back to Massachusetts and married her. He called Tim Rowe. "He was having the time of his life, basically being an innkeeper," Sherwood recalled. "It took me five minutes to know I had to get back there."
In 2007 he rejoined CIC, first to handle Google's ever-growing needs, then to manage CIC's own sales team.  Not long after, Cortex, St. Louis's own biotech-centric innovation center, invited CIC to come take a look.
St. Louis reminded the CIC team of Cambridge when they first started there – a strong academic environment, lots of entrepreneurial vitality, not yet taken over by high-rises and myriad fancy restaurants.
"I raised my hand and said, 'I want to move my family and do this'," Sherwood said.
In fact, Sherwood, his wife Kate, and their 5- and 7-year-old sons won't move until July, after his oldest son has finished the school year.  But he already spends a lot of time in the city, negotiating real estate and otherwise preparing to welcome the first tenants in late summer, early fall.  CIC has already secured the old Western Electric building, and Sherwood is almost ready to sign a deal for space in another facility.
It's a lot like starting a new business – which of course raises the question of whether the entrepreneurial bug is biting at him again, too.
For now, he insists that building CIC is slaking any residual entrepreneurial thirst.  But… "I understand the psyche of the serial entrepreneur. So could I eventually be a client in my own space?  It could happen."