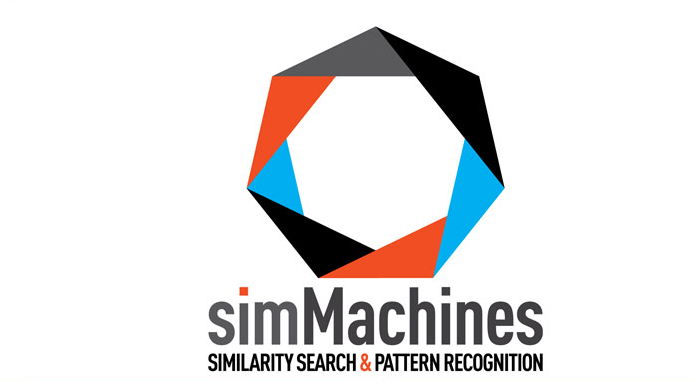 Arnoldo Müller-Molina is amused, or perhaps bemused, when people try to pin him down on what Simmachines — the similarity search company he founded in 2012 — specializes in.
It's in the cancer research space, so it must be a medical company, right?  No, wait. It helps retailers pinpoint what coupons and ads to send customers, so it's a marketing firm. But then, how to account for the research it's currently doing on global internet security?
Muller-Molina simply doesn't see why  he should limit the applications.
"Biology, internet security, marketing – it's all based on data,'' he says. "Analyzing data is our specialty."
It's more complicated than that, of course. What Simmachines actually does is program computers to spot patterns in data – similarities, if you will — and extrapolate from them.  Or, to put it in truly vernacular terms, it uses algorithms to apply the same sort of cumulative learning that enables people to make the myriad decisions they make each day.
Food shoppers pick tomatoes that are similar in color and texture to those that tasted best in the past.  Banks give loans and credit cards to people whose financial history most resembles that of others who have consistently paid on time. So why shouldn't computers pick out strands of DNA that look most like those that have been identified as good or bad actors in the past?  Or predict what a customer will order in a fast-food restaurant based on what similar customers have found tasty – or, drilling even further down, predict whether a 10 percent discount will attract one type of customer, while another needs to be enticed with 15 percent?
Now add the concept of "fuzzy data" to the mix.  You know it's cold out, even if you don't know whether its exactly 25 degrees.  Banks know that someone who pays bills a day late is a better risk than a true deadbeat.  Simmachines embraces the fuzziness.
"A social security number must be exact, but if you forget the umlaut on Muller, it's still my name,'' Muller-Molina explains, which sounds like common sense, but common sense is not something computers are usually programmed to use.  "Everyone mines and stores data these days, but few organizations employ a staff of data scientists. We analyze the data through a scientific lens."
Muller-Molina's industry-agnostic approach is probably rooted as far back as his teens.  He grew up in Costa Rica, the son of a computer programmer (dad) and biology teacher (mom).  Both fields fascinated him – as did foreign languages.
He began programming at 15, and excelled at the field in college.  After graduating he joined Intel, which sent him to a three-month program at the University of New Mexico to perfect his English. Three years later he accepted a scholarship from the Japanese government to study artificial intelligence, and after that, Germany's Max Planck Institute hired him to work on molecular biology projects.  The research, with its medical applications, scratched his itch to help society – but did nothing for the entrepreneurial itch that was also surfacing.
"As an entrepreneur I could help with more than research,'' he says. "I could hire people and create wealth and pay taxes."
The lure of the United States – "a truly entrepreneurial country," as he describes it – was strong, but permanent work visas were rough to get.   So he returned to Costa Rica to start Simmachines.  And then he came across a news article describing St. Louis and its Arch Grants business plan competition.  He applied – and not only got a $50,000 grant, but got help getting a visa.  The visa came through in August 2012, and a week later he was on a plane to St. Louis, as the only stipulation in winning an Arch Grant is relocating to the Gateway City.
Upon arriving, he knew money wasn't the only thing he needed to get a jump-start on his new venture. He needed entrepreneurial startup resources that he found through a myriad of sources across greater St. Louis.
He's been working practically 24/7 since.  Simmachines has five full-time employees, plus some business-savvy investors who pitch in on strategy and legal advice.  For a per-use fee – or, a license to the software, if they prefer — Simmachines will mine a clients' data to help it see what worked in the past, and use that knowledge to fine-tune its future.  A London client is using Simmachines to seek a cure for prostate cancer.  An American fast-food chain is using it to analyze customer preferences. Simmachines still makes a big chunk of its revenues from handling data projects, but a growing number of its clients are licensing its similarity-analysis tools for use on data bases in the cloud.
"It's like self-service gasoline,'' Muller-Molina adds. "Some people still want full-serve, but people have grown increasingly comfortable doing it themselves."
He expects his business to continue to trend in that self-service direction and is also looking at other services to offer. He's working on a product that would allow global companies to combine databases from their many outposts by using similarity searches to spot similar terms and idioms in different languages – and even account for misspellings. Also on the to-do list is to plug up security holes that affect the entire Internet, not just specific sites and software.
The way he sees it, the more data that can be gathered and analyzed, the better for society – and, of course, for Simmachines.
"If there's ever a president of the entire world, that person will probably be a data scientist,'' Muller-Molina said. "Data is just that crucial."