What started out as a college student's quest to store his belongings for a summer without breaking the bank has flourished into a thriving Austin-based startup, complete with new downtown offices and almost 50 employees. Founded in 2008, SpareFoot Storage Finder is a leading online resource for self-storage searches. Over 6,000 facilities are represented nationwide on SpareFoot.com.
Not wanting to pay more to store his stuff than it was actually worth, then-UCLA student Chuck Gordon left his belongings with several friends while he studied abroad. When he came back, he and friend Mario Feghali hatched an idea for creating a website that would promote peer-to-peer storage lending. As their idea took off, the SpareFoot co-founders quickly found their sign-up list populated with "mom and pop" storage facilities wanting to get in on the action.
According to Spare Foot Marketing Analyst Rachel Greenfield, it was then that Gordon and Feghali realized that the true untapped market was the storage industry itself. "This was an industry that was underrepresented online and behind in terms of technology," Greenfield said. "Customers were looking for online services, and very few self-storage facilities had a strong online presence, if they even had one at all."
The SpareFoot duo did an about-face on their business plan and started working toward helping the self-storage industry by improving online search capabilities. Gordon and Feghali took their refined plan and applied for space in the Capital Factory tech incubator program in Austin, Texas. Shortly after graduating from UCLA in 2009, they packed their bags and moved to Austin, where they enrolled in Capital Factory's 10-week entrepreneurial boot-camp program.
In the U.S., the self-storage is a $22 billion industry, complete with state, regional and national trade shows. A combination of what Greenfield describes as smart hires, great advisors, and access to investors and other contacts at Capital Factory helped nurture and grow SpareFoot over the past three years. SpareFoot is a hub, not only for those comparison price shopping for storage options, but also for those companies offering self-storage options.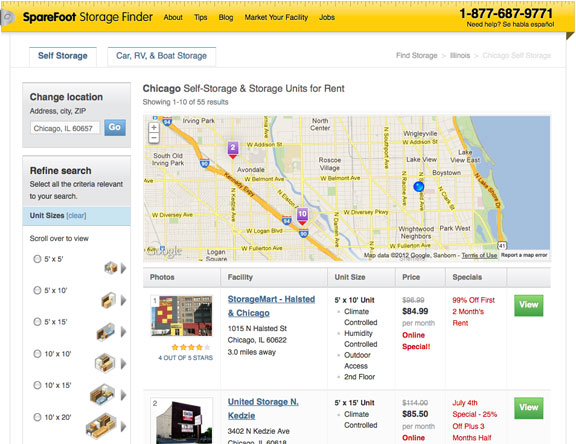 SpareFoot has national reach, and partnerships with companies like Apartments.com and Penske Truck Rental help improve the online experience for those who are packing and moving by providing a one-stop place to search, compare prices, and make reservations. Rounding out this integrated approach, SpareFoot staffers blog not only about self-storage, but also tips for car shipping, the do's and don'ts for moving with pets, and even their take on "Storage Wars" on A&E.