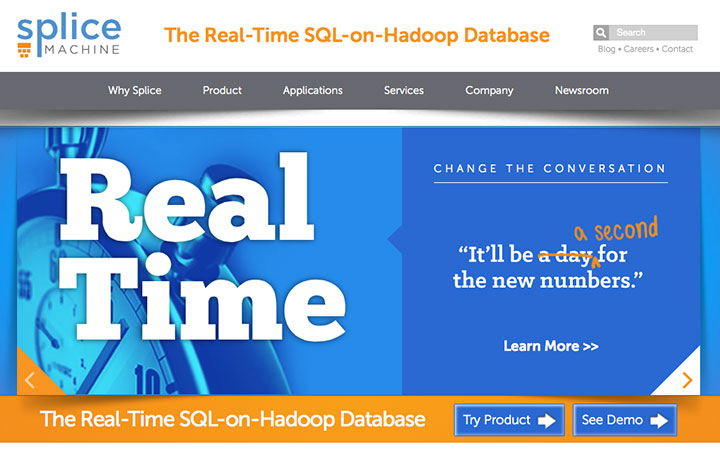 Splice Machine may technically be based in San Francisco, but they have strong ties to the city of St. Louis and its burgeoning startup community.  Its co-founder, John Leach, works out of the Helix Center, St. Louis County's biotech innovation hub. With news of its closing on a $15M Series B round of funding, things are picking up for the company.  And that's great news for the city of St. Louis.
Leach is an alumnus of Washington University, so he's not a stranger to the advantage of living and building a business in St. Louis.  In fact, he specifically moved here to start a business in the early 2000s prior to starting Splice Machine.
"What am I doing in St. Louis? I think we're building a world-class software company is what we're doing!" John Leach laughed, co-founder of Splice Machine. More than that, though, Leach explained that he simply likes being here.  "We're a pretty hardcore technology company.  The technology is very advanced and can become all encompassing," he said.  "I think it's helpful to be in a place that has a little less stress from a private life perspective.  A little less traffic.  A little less hustle.  I like St. Louis.  My parents are close. My wife's parents are close. I just like it here."
The company is putting down even more roots, too, in the "Gateway to the West."  They are looking to hire new team members to join them, and they've already begun conducting interviews and have had several great candidates apply.  Specifically, they're looking for developers and people to join their QA team.  But, they're also looking to do more than just hire great local tech talent.
"I hope it will also mean the people in Splice Machine can mentor and be part of an ecosystem here," said Leach on what this round of funding means to his company.  "Not just jobs, but [we want to] inspire other companies to do different things.  Inspire collaboration.  It's exciting for me to share my experiences and others share theirs to build an ecosystem where one plus one equals three.  Build an environment that has a lot of collaboration.  I'm really excited, and this round of funding is a big validation for us."
The company is the only transactional real-time SQL-on-Hadoop database for Big Data applications, filling a critical gap in the market.  With their software, Splice Machine is moving Hadoop beyond batch processing to power real-time operational and analytical applications.
Initial results have shown a 10x increase in price/performance by decreasing response times by 30-50% on significantly less expensive hardware against Oracle databases. Essentially, Splice Machine is providing the best of Big Data with the scalability of Hadoop and Hbase, the ubiquity of SQL, and the transactional integrity of an RDBMS.
The company received its first round of funding in October 2012 and has since tripled its staff.  With this latest round, they're looking to accelerate their product development and expand its sales and marketing team in preparation of its upcoming public beta offering, taking place in the first quarter of 2014.
Before ending the interview, Leach also shared a bit of advice for entrepreneurs and why you should think about starting a business in a place like St. Louis.  "I really hope that people understand that St. Louis has a really vibrant tech community, and there are a lot of opportunities here," said Leach.  "If someone was wanting to start up, this is a great place to do it.  St. Louis has a lot of great tech talent and low cost of living. We've got great universities, and I think it's actually kind of a hidden gem to be honest."
For more information on Splice Machine and what they're up to in St. Louis, you can check out their product and see a demo here.