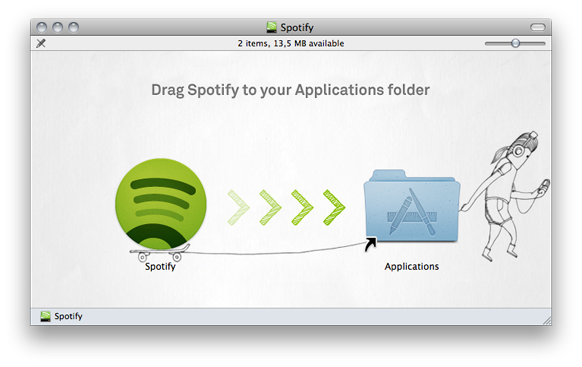 Once you take a look, you'll see why we believe this is truly the beginning of something game-changing for digital music. We think this will lead to integrations that keep Spotify beautiful and simple, but layer in great musical experiences designed to be social and fun. It's what our users have been asking us for. – Spotify Founder Daniel Ek
Spotify's eagerly awaited press conference took place on Wednesday in New York, given by founder Daniel Ek. Did he try to calm the fire that STHoldings sparked a couple weeks ago? Nope. Announce a music purchasing platform? Nope. Introduce awesome apps created alongside Rolling Stone, Pitchfork, Last.fm, and Billboard? Luckily for us, yes.
As I write this, I'm listening to Los Campesino's new album, brought to me by Rolling Stone Recommends app. I can only assume that my qualm with Spotify's lack of recommendations must have struck a cord with Daniel. Spotify isn't making personalized recommendations in its beta version, but for now the apps definitely fill the void. Good music is good music, and Spotify hands it to you on a silver platter, dipped in chocolate, dipped in gold, and then chocolate again.
Rolling Stone presents you with the best new releases out this week, "there's nothing under three stars here."  They also have song recommendations, "from the hottest new singles to obscure gems." They also released a slew of playlists, a majority of them created by musicians. Mick Jagger's Top Reggae Songs, why not? The Rolling Stone Editors' Pick playlist are going to please just about everyone for obvious reasons. When the final version is released "in the coming days," Spotify says they will be working with the app providers to learn your tastes and tailor your music.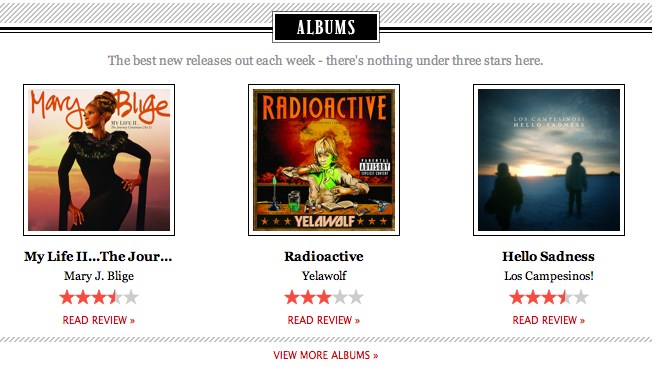 Indie music authority Pitchfork's app is simple, but effective. They present their "Best New Albums," as well as playlists and reviews. Apparently, I wasn't the only one let in on the Moodagent secret. Their app lets you pick your mood and then suggests music accordingly. You can download the Spotify Apps Preview Version and start discovering some great new music to help you tough out the winter. Props to Spotify for turning a potential nightmare into an amazing opportunity.