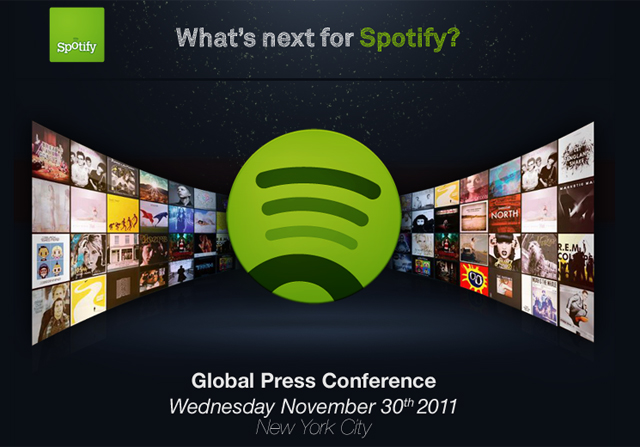 Following the fleeing of over 200 labels from music streaming services and Google's release of their free music service, Spotify sent out invites to its first ever US press conference to be held on November 30 in New York given by founder Daniel Ek. Presumably, they will be announcing a new direction for the Swedish-based streaming music service.
Spotify has only been available in the United States for about four months, but has become the worlds largest music streaming service, touting 10 million users worldwide. Last week, electronic music distributor STHoldings made news when they pulled 200 labels from all streaming music services. They released an honest, yet somewhat brash statement on their website, which they seem to have since redacted. According to Wired, it originally read:
"As a distributor we have to do what is best for our labels. The majority of which do not want their music on such services because of the poor revenues and the detrimental affect on sales. Add to that the feeling that their music loses its specialness by its exploitation as a low value/free commodity. Quoting one of our labels, 'Let's keep the music special, f*** Spotify.'"
However, it seems as if STHoldings is thinking twice about their decision. "Pleased to say we're working with some streaming companies on solutions that work as well for artists as they do consumers," says their current statement page.
In addition to these stickier issues that we might see addressed, there are rumors of the release of a US purchasing platform, already available in Europe, as well as an iPad app. For now we can only guess, but stay tuned for the follow up next week. In the mean time, check out this Fortune interview with Ek on how access, not ownership, is the future of music.