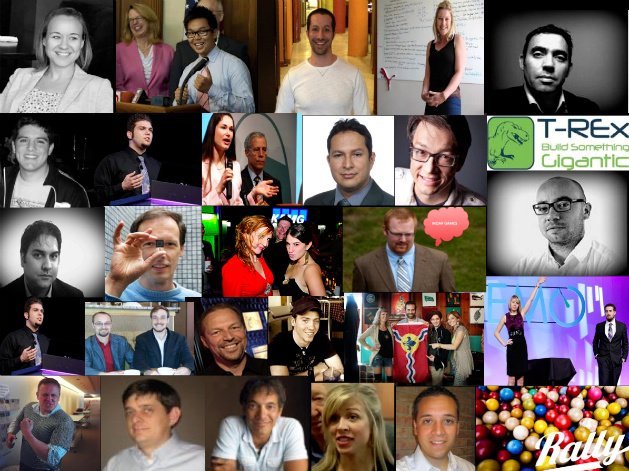 In Techli, you've read about some of the exciting things happening in St. Louis as its startup ecosystem starts to come into its own…
What a difference a half year makes!
Buckle in, and take a peek at some of the people that have started to make up the St. Louis startup ecosystem- in the half year Techli has moved its offices to St. Louis:
15 startups out of 420 applicants received an Arch Grant (including this publication- and if you want one, you have until Feb. 1st to make the cut for their next round- apply now). Those 15 companies each won a $50K Grant of equity free funding, LockerDome grew a population bigger than some small countries, Evtron made servers sexy again, Bonfyre went to DEMO, T-REx ROARED as it filled with startups, Icarus threw a bad ass coming out party, St. Louis rallied, SLU got SPICE-y, Capital Innovator's Matt Menietti became a MMA Cage Fighter (pending*), Jonathan Leek from IDC Projects did some stand up comedy, Dagan Xavier, an Australian import to St. Louis with Food Essentials led an entourage of entrepreneurs both foreign and domestic on a drinking tour of the city's fine drinking establishments for a night worthy of the Rat Pack and Arnoldo Muller, a Costa Rican entrepreneur with a PHD who claims to only be funny telling jokes in Japanese built a scary fast computer capable of world domination (and data analysis) and named it Ophelia. Jenny From The Block came back from Seattle to launch St. Louis WEST.
There's more, like Allison Carmen going Goulet, Farmer Girl shipping organic beef with all the fixins', LockerDome employees sleeping in LockerDorms after pulling an all night work-a-thon (daily occurrence), MedPreps causing the skies to go dark downtown at lunchtime under the assault of an armada of paper airplanes (alleged), Square got a valuation of $3.25 Billion and the founder of soon to be launched Senior Marks shared her old school Irish A+ holiday eggnog (spiked, of course).  If a lot of these statements sound confusing and indsider-ish, its because the startup founders in St. Louis are doing big things and growing exciting companies. When they cut loose, like any good entrepreneurial community, they tend to cut loose the right way- and then get back at it a few hours later.
If you're in St. Louis and thinking about launching a startup, stop thinking. DO it.
If you're somewhere else, planning a startup, want an attractive cost of living, want to be surrounded by creative, forward thinking people, need capital and want to be a part of something taking off, come visit St. Louis. In a couple weeks Techli is welcoming an entrepreneur from Warsaw, Poland, who is coming to check out our scene and speak at the next Techli Innovate. Just shoot any of us St. Louis startups an email, and we'll welcome you with open arms.
*sometimes we make things up about our friends. But not this time.**
**see: *