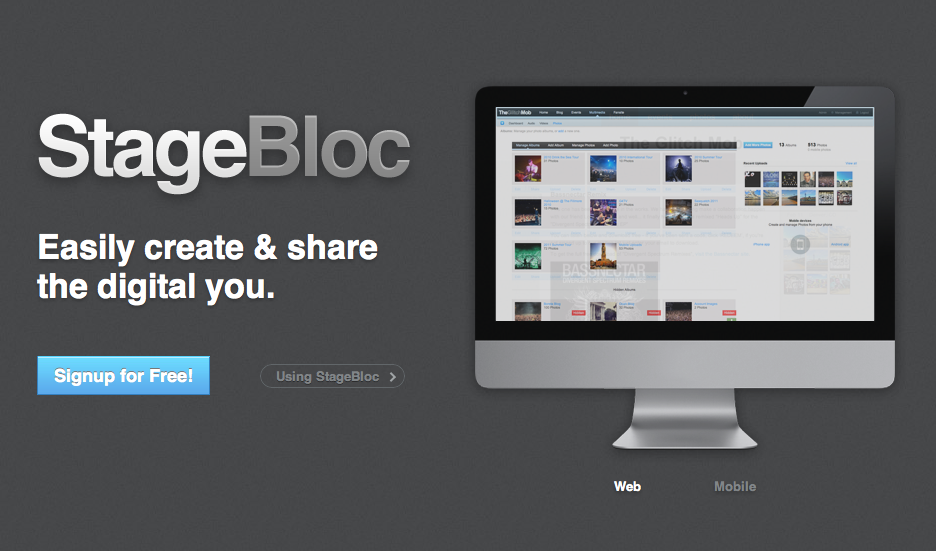 Whether your band still plays garage gigs or is being billed as the next multi-platinum sensation, the talented website developers of Stagebloc are bringing you a design and development tool that is (forgive the pun) music to your ears. StageBloc is currently offering free accounts for artists and bands which includes a simple yet powerful website to promote with a blog, tour dates and more. For a small monthly fee, you can update your experience to include advanced video, audio, and photo management and direct integrations with such services as Topspin, Bandcamp, and SoundCloud. The site is still rolling out features, so look for their offerings to expand even further in the near future.
I had a chance to have a quick chat with Tom Giles, who along co-founders Mike Branski, Greg Ipp , and the rest of their team, have brought the dream of StageBloc to life through hard work and dedication to creating a place for musicians to showcase their talents like a platinum artist on a reasonable budget. In addition to working with bands, indie record labels, and in the computer gaming industry, Tom, Mike, and Greg also have extensive training in website development. They believe this set of skills and experiences have made StageBloc their perfect project.
Mobile fans will be happy to note that StageBloc has an accompanying iPhone and Android app, and developers can use StageBloc's Front-end Framework from Github for maximum customization and control. With all of these options and StageBloc's talented staff to guide you, your band can focus less on promoting and more on selling records. !