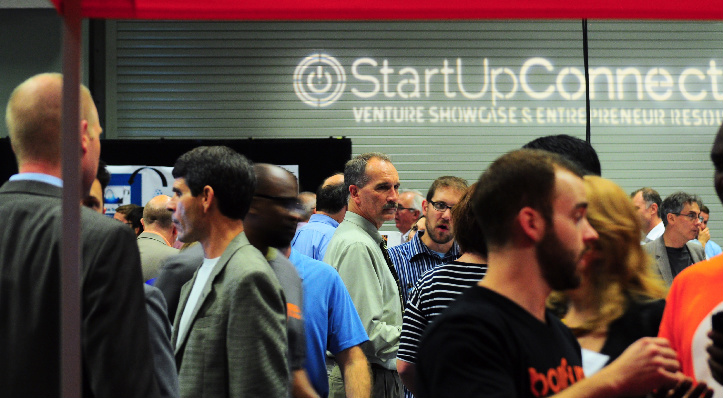 ST. LOUIS, October 14, 2014 – StartUp Connection '14, St. Louis' largest celebration of entrepreneurship, today announced the lineup for its Venture Showcase, a select group of 70 startups and emerging companies that will have the opportunity to pitch and present their business to investors and the business community. The evening will see more than $150,000 in cash and prizes awarded to emerging ventures.
StartUp Connection will take place Wednesday, November 19, at St. Louis University's Busch Student Center from 4 pm to 7:30 pm.
StartUp Connection is the only event in St. Louis that highlights the breadth of innova
tion happening across the region. Attendees get to see and experience the diversity of new ventures in IT, Life Sciences, Education, FinTech, Consumer and Manufactured Products. The event also features a Resource Fair with more than 50 organizations that help grow and nurture startups.
During the event, attendees can meet all of the ventures, browse the Resource Fair, and listen to each startup's elevator pitch.

"StartUp Connection is a great platform for celebrating the early stage innovation that's coming to the market in St. Louis," said Phyllis Ellison, Managing Director of StartUp Connection '14. "It's the best opportunity to see the breadth of talent and ideas from our community, and to get a first look at who and what's going to be hot next year."
The range of awards available to Venture Showcase companies include:
Lewis Rice – One award of $2,500
BioSTL Awards – Two awards totaling $2,500
Cultivation Capital Awards – Two awards totaling $2,000
Prosper Women Entrepreneurs – One award of $1,250
St. Louis Economic Development Partnership's Startup Challenge business plan competition also awards $100,000 cash to 3 winners of that competition, plus $20,000 awarded to women, minority, immigrant, or veteran-owned businesses
Venture Showcase companies also will have a chance at in-kind prizes valued at over $25,000 from professional service firms, including Aegis Professional Services, Armstrong Teasdale, Bryan Cave, CIC, Color Art, CreatiVenture Law LLC, EO, Mueller Prost, Polsinelli, and Spry Digital.