A St. Louis startup is launching an innovative new product this week that has the ability to turn almost any surface into a speaker. Through the power of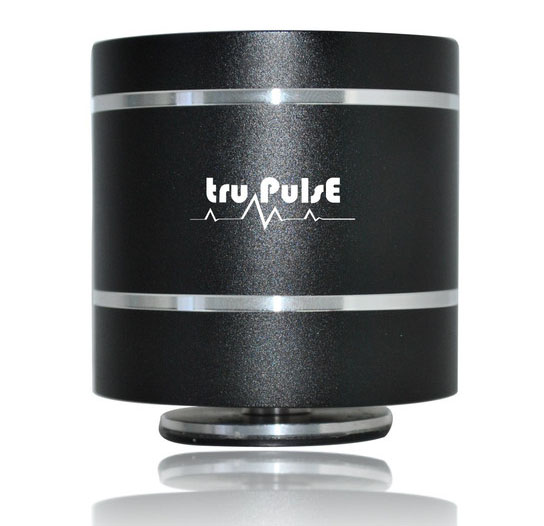 vibration, the TruPulse speaker can make make glass, wood, plasterboard, and many other resonation-capable surfaces sing.
TruPulse offers two different models of the new speaker, at 10 and 26 watts. The standard speaker runs for $75 and can connect easily to mobile devices using Bluetooth, while the larger speaker, at an additional $20, uses a standard 3.5 mm headphone jack connection and can also read files from USB drives and microSD cards.
One big advantage that TruPulse has over traditional speakers is that it delivers sound in a full 360 degrees, as opposed to the single direction of conventional speakers. In the fan-made video below, you can see the various surfaces upon which the device can generate sound; during one impressive demonstration, the vibration-based technology works well enough for people on two different sides of a pane of glass to hear the same quality audio.
The unique technology behind the product will undoubtedly be its main selling point, though its practicality in situations where you would need a portable speaker is questionable. I've long used a portable speaker to bring music on the go, primarily in outdoor settings, most of which didn't necessarily have qualifying surfaces at the ready. Something to take into consideration, but if you're just looking to use it around the home or office you'll probably not have any issues finding a surface to rock out on.
I do love that both models have a rechargeable lithium ion battery, though the longevity of the standard model maxes out at just two hours. Even though some other portable speakers on the market can require a few standard batteries, they can often get upwards of 20 hours of battery life per cycle.
Despite some of these issues, the tech behind the new device is certain to impress coworkers and gadget lovers alike. Both models of the TruPulse speaker are currently available for order on the company website, and will be on sale at St. Louis' West County Mall beginning this week.