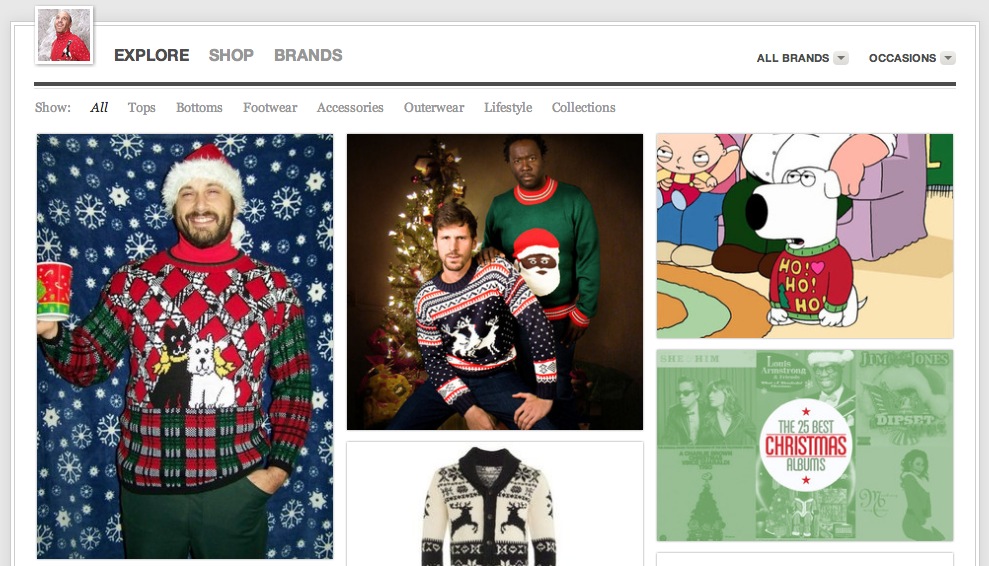 Having trouble finding the ugliest holiday sweater for your ugly holiday sweater party? Chicago's StyleSeek has you covered. This month the rapidly growing fashion startup has injected a healthy dose of holiday cheer into its style recommendation platform with a plethora of wonderfully tacky holiday sweaters, available for browsing throughout the season.
We asked Tyler Spalding, StyleSeek's co-founder and CEO, why he would deck the halls of his fashion platform with the ironic centerpiece of many of this month's hip holiday parties.
"It's a fun way to highlight the holiday season!" said Spalding. "Ugly sweaters are becoming more and more popular, and it's an exciting way to demonstrate our technology and still maintain the StyleSeek user experience."
The men's fashion platform creates a taste profile on each of its users based on any image they choose to incorporate into their style. Everything added to the service creates a "StyleDNA," which ultimately shapes the clothing and accessories that are recommended to you. The Chicago startup even provides style profile for celebrities and fictional characters like Fight Club's Tyler Durden and James Bond.
According to Spalding, the ugly Christmas sweater feature is a separate, curated StyleDNA. Users can still save their favorite images in StyleSeek, follow links to shop for ugly Christmas sweaters around the web, and even incorporate some of their favorite ugly sweaters back into their own personal StyleDNA (not that we recommend it).
Spalding said that the StyleSeek team will continue to work on the platform over the holidays in typical startup fashion. "But we'll be spending some time with our families as well," he added.
StyleSeek is currently operating out of the Catapult coworking space in Chicago's River North community. The startup raised $1 million in seed funding over the Summer and is still operating in closed beta. Techli readers can sign up and start digging for the tackiest holiday sweaters on the web by clicking here. Or can always just use it as its founders intended: to find men's clothing that fits both your budget and style.