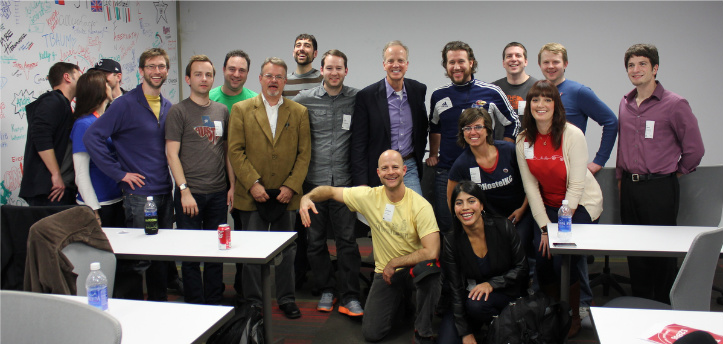 SXSW Interactive starts today!
While being an entrepreneur can be challenging — the long hours, the time stolen from family, and the constant state of ambiguity –  being in the right ecosystem can help you achieve. One year ago, my team at Phone2Action rode a wave of support, enthusiasm, and love from the Missouri/ Kansas startup ecosystem to a victory at the SXSW Interactive Accelerator.
Forty entrepreneurs shared a bus ride down together. The entire Missouri/ Kansas contingent joined forces and took the "Show Me Bus", sponsored by the Kauffman Foundation and organized in part by St. Louis Chamber of Commerce, from Missouri to Austin, Texas.
Immediately upon arriving in Austin, we had the opportunity to meet with Kansas Senator Jerry Moran at Facebook's Austin offices. In a wide-ranging discussion, we discussed everything from the role of government in driving innovation to what brought us all to SXSW. It was a great way to kick things off in Austin.
All of the excitement in getting to Austin was a prelude to our participation in the SXSW Interactive Accelerator Competition.
The Accelerator is SXSW's annual business competition. The event draws thousands of applicants from the most promising companies across the world; past winners include companies such as Siri, Klout, and Hipmunk. The benefits of winning range from incredible press to getting the attention of clients and investors. Given how hard it is to stand out at SXSW, excelling at the Accelerator can make a world of difference for your company.
Past participants of the Accelerator have raised more than $587M in funding to date, and 9% of participating companies have been acquired.
I've had the fortune of participating in the Accelerator with two different technology startups in 2012 and 2013, and I've identified six rules to maximize your chances for success. In 2013, Phone2Action, the social advocacy platform startup I cofounded, won the News Technologies Category.
1) TRACTION. 'Nuff Said
Tractions trumps everything. Traction comes when you start solving problems. You know you are on to something when something you build makes people lives' easier, and clients are suddenly willing to pay for what you are building. Without traction – be it revenue or significant user growth – you probably don't (yet) have a sustainable company, and you definitely won't win the Accelerator.
2) KNOW THE FORMAT
To win in Austin, you have to know the format (2-minute pitch the first day, 5-minute pitch the second day in the finals), but you also need to know the idiosyncrasies of the Accelerator. In the first round, you are competing against 3 other companies (three teams advance from two flights of four companies each).
You need to beat each of them to advance to the finals. You have to be completely in synch with your partner during the presentation – because you can't advance the slides yourself. This is a broader metaphor for success of your company – you need to be able to pull together at critical times if you want to succeed. Practice ahead of time to give yourself a chance to win. And finally, you need to be comfortable on the stage. So walk it before you present.
3) Practice
If you expect to get on stage and wing it, you won't be coming back on Sunday. The competition is too stiff. Companies like Chicago-based Mentor Mob (in the extremely competitive Entertainment Category) have been practicing since December, so if you have been slacking, you will be packing (your bags before the finals). Take-away tip: practice your two-minute pitch without the aid of slides. Then, when you have slides, it becomes easier.
4) Prepare for Q&A
All the pitch practice in the world won't help you overcome a disengaged Q&A performance. To practice, have your team throw the hardest possible questions at you. Know your answers. Know how to pivot a tough question into something great about your company that you didn't have time to cover in your pitch.
While you can't win from Q&A alone, you can definitely lose without a strong performance. The judges and emcees range from John Sculley (former Apple CEO) to Bob Metcalfe (founder of the ETHERNET). They will pick and prod at your business, looking to see if you really understand your industry, if you have a replicable business model, and if you can sell. Favorite trick? Use the first question in QA to set-up a question… then slam it home. Keys to victory? Being assertive, confident, and collected.
5) Be yourself and let your passion shine through
This can't be understated. If you don't love what you are doing, if you aren't all-in, and if you aren't the head cheerleader for your company, it shows. And you won't win. So let your passion come through and watch what happens.
6) Thank everyone
Winners acknowledge the people that helped them get there. Matthew McConaughey does it at the Oscars, and so should you. Thank your team (yeah, Patrick, Ximena, Luke, Ryan, and Nathaniel!), your family (Lea!), your investors, and the Accelerator for having (and putting-up with) you is a NICE THING to do, and it's also the right thing to do. Winners acknowledge the people that helped them achieve. It's. That. Simple.
Winning the SXSW Accelerator in News Technologies in 2013 has been a major contributing factor to our continuing growth. When we entered the competition, we were a young company backed by Kansas City's Think Big Partners accelerator, and all of the amazing people that make it an awesome place to build a company. We wouldn't have made it to SXSW without their support.
Coming out, we became more visible, and caught the attention of several venture capitalists. No one deserves a thank you more than does Dundee Venture Capital's Michael Wetta, our amazing venture partner, for helping us to accelerate our growth and deliver advocacy solutions to many great causes.
To all of those about to take the stage at the Accelerator over the weekend, we wish you luck. In many ways, you have already won.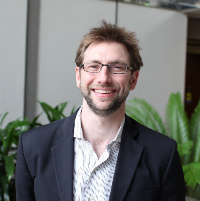 Jeb Ory is the CEO and cofounder of Phone2Action, a social advocacy platform that powers the movements that change the world. Jeb is an avid swimmer and is looking forward to swimming from Alcatraz to Aquatic Park for the second year in a row this September. The water is cold! He lives in Washington, DC, with his wife, Lea Crusey.